38% of Home Buyers Exceed Their Budgets
Blog posted On June 18, 2019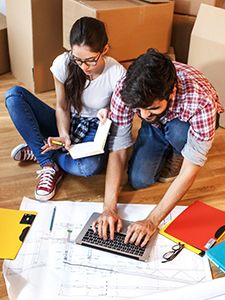 One of the first steps to buying a new home is setting a reasonable budget. Getting preapproved for mortgage financing will help you determine how much home you can afford and where you should start looking. Most mortgage professionals recommend setting a budget below the amount of loan you qualify for, to avoid stretching your finances. The cost of buying a home comes with the down payment, closing costs, and other ongoing maintenance and renovation costs that may come up during the first few years of homeownership. A new study from real estate brokerage, Owners.com, found that an alarming 38% of home buyers exceeded their self-imposed budgets over the past four years.
Home buyers are breaking their budgets for a number of reasons. In some busy markets, they may believe a higher offer will help them win a bidding war. However, there are other ways to stand out to sellers. A buyer that can facilitate a faster transaction could be just as valuable as a buyer offering more money, depending on the seller's timeline. In other cases, buyers believe paying more for a home that does not require repairs is better than taking on a fixer-upper. All homes will inevitably need repair and renovation, depending on the age of the home, environmental conditions, and other factors. Foregoing a fixer-upper now does not mean you'll be spared the cost of repair down the road. Buying a home can be an emotional experience. Buyers who fall in love with a particular property may find themselves ignoring their budget now and paying for it later.
Overspending on a home puts you at risk of not being able to keep up with the costs of homeownership. Mortgage and real estate professionals suggest that your predictable housing costs, like your mortgage payment, property taxes, and homeowner's insurance, should never exceed 30% of your take-home pay. The cost of these variables may fluctuate over time depending on the location of your home, the type of mortgage you used to finance it, and even other factors out of your control like natural disasters and climate change (driving insurance premiums up). Setting a manageable budget when you buy your home will better prepare you for inevitable changes.
While homes can always be renovated and upgraded, there are some things you will not be able to change. A landlocked home will never have a waterfront view, a 1,300 square-foot home on a small lot won't turn into a 2,600 square-foot home on a sprawling plot, and neighborhood zoning restrictions may impact your eventual desire to build a deck or pool. While you should try to avoid going over budget when buying a home, you should not compromise your wants and needs for a home just because it is within your budget.
Working with a mortgage lender early can help you set a realistic budget and even find ways to increase it through down payment assistance or grants to cover closing costs. You should never buy a home you can't afford, but how much you can afford may vary depending on the type of mortgage financing.
Sources: The Motley Fool