CMG Home Loans Announces More Affordable Construction Financing, Giving Home Buyers More Options in a Low-Inventory Market
News posted On December 16, 2022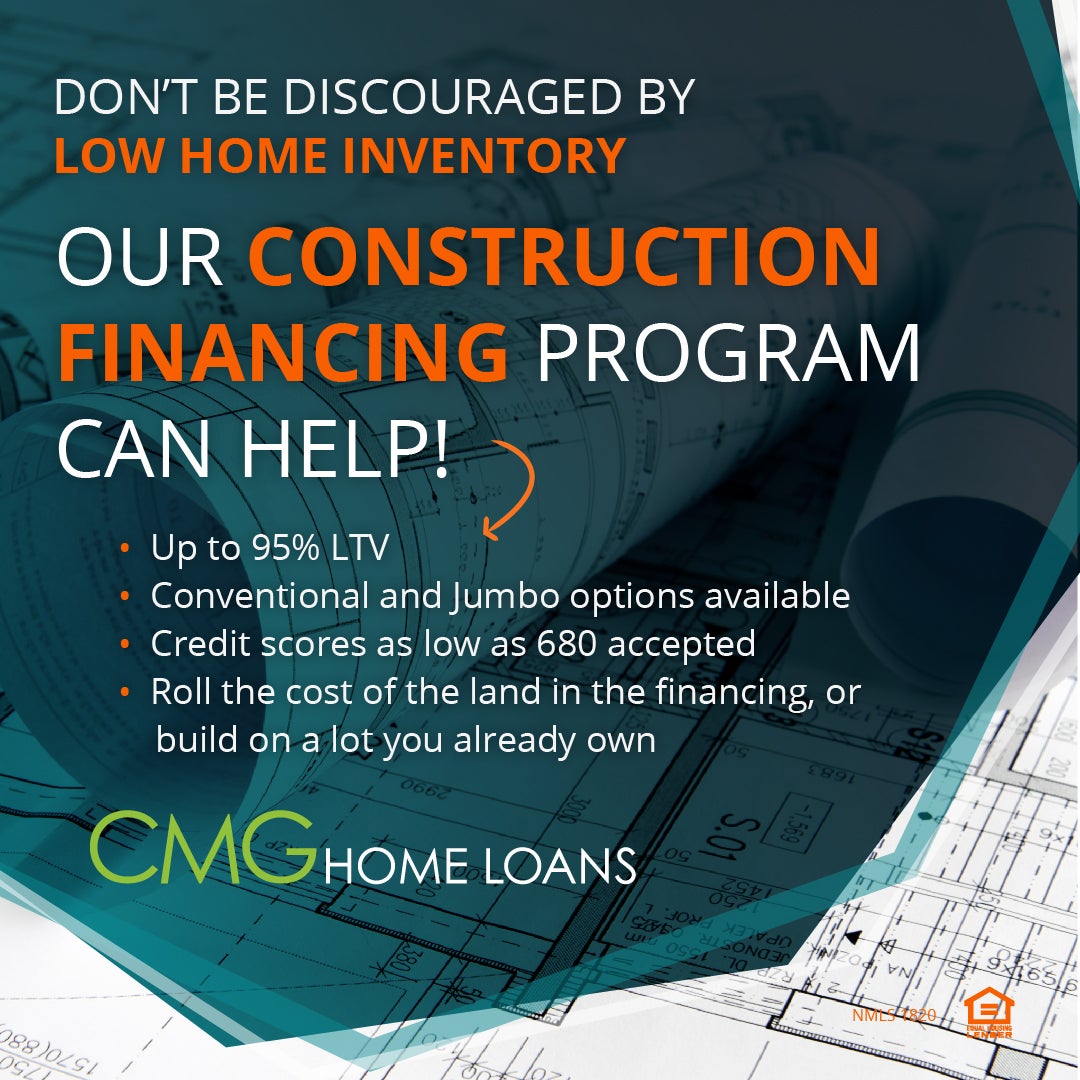 San Ramon, CA – CMG Home Loans, the retail division of well-capitalized privately held mortgage banking firm, CMG Financial, announced today that it is enhancing its product menu with more affordable construction financing options. With lower upfront costs than many other construction programs, CMG's construction financing solution will provide home buyers a much-needed breath of fresh air in a low-inventory, high-cost market.
The COVID-19 pandemic has left home buyers with significantly fewer options on the market, and next year will likely pose additional inventory challenges. Many homeowners are comfortable with their current pandemic-level interest rates and are thus reluctant to sell. At the same time, millions of Millennials are reaching their peak home-buying years, putting even more strain on available inventory. This leaves buyers with a difficult decision: sacrifice desired features to save money or spend more on a new build, which often comes with higher upfront costs.
CMG Home Loans is committed to giving more buyers more options at a more affordable cost during a time when they need it most. With CMG's construction financing program, buyers can expand their options and look beyond the homes currently on the market. They can purchase a lot, finance construction, and secure any Conventional or Jumbo Loan of their choice once construction is complete. They can also collaborate with local builders to create their dream home, while builders benefit from CMG's dedicated in-house construction experts and streamlined draw administration process. One of the best features of CMG's construction financing is the lower down payment requirements than most other construction loans. Plus, because buyers close on their mortgage after construction is finished, they can benefit from next year's rates – which are projected to be lower.
To learn more about their unique construction financing options, visit CMGHomeLoans.com or watch the video here. If you're interested in joining team CMG and gaining access to our exclusive loan products, visit https://www.cmghomeloans.com/recruiting.
###
About CMG Home Loans
CMG Home Loans is a nationwide retail mortgage lender and subsidiary of CMG Financial, a well-capitalized, privately held mortgage-banking firm founded in 1993. The company makes its products and services available to the market through three distinct origination channels including Retail Lending, Wholesale Lending, and Correspondent Lending. CMG Financial currently operates in all states, including District of Columbia, and holds federal agency lending approvals with HUD, VA, RHS, GNMA, FNMA and FHLMC. Throughout the mortgage banking and housing markets, CMG Financial is widely known for responsible lending practices, industry and consumer advocacy, product innovation, and operational efficiency.
Media Contact:
Annaugh Madsen
Phone: (667) 260-6360
Email: amadsen@cmgfi.com