Why You Should Stay with the Same Lender for Your Refinance
Blog posted On April 01, 2021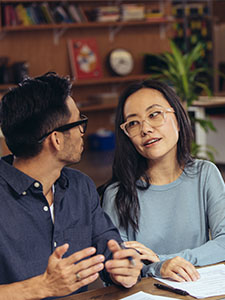 Refinancing your home while rates are low can save you thousands of dollars over the life of your loan. If you're looking into refinancing you might be considering what type of refinance you want, what rates you are looking for, and whether or not you should stay with your current lender. But before you decide to refinance with someone new, here are four reasons when it makes sense to stay put.
Not all lenders issue refinances
Some loan servicers don't issue refinances, but we offer different types of refinances to best suit your needs. Aside from the standard refinance, we offer the 203(k) Renovation Refinance and the Cash-Out Refinance. A Renovation Refinance allows you to pay off your current loan, take out a new loan that includes your mortgage and expected cost of renovations, potentially lower your mortgage rate, and even cancel your mortgage insurance (if you've built enough equity). In most cases, a renovation loan will carry a lower interest rate than taking out a personal loan or using your credit card to pay for renovations.
Cash-out refinances allow you to exchange the equity you have built in your home for money. To qualify for a cash-out refinance, you should have at least 20% equity in your home. Then you can pay off your existing home loan and replace it with a new, larger mortgage and receive the difference between the two loans in cash. Most financial experts recommend that you use this money to finance high-return investments such as consolidating debt, renovating your home, or even financing a second mortgage on an investment property.
The process might move quicker
Your current lender has all of your most recent information. So instead of filling out endless paperwork, you should be able to move pretty quickly with your refinance. This depends on if you've kept your lender in the loop with any recent purchases or investments. "It is usually easier to refinance with the same lender; they have your information, they have a lot of the borrower's history, payment history, income, etc., on file," said Joel Kan, associate vice president of economic and industry forecasting at the Mortgage Bankers association (MBA).
You might have better service with your current lender
After working with your lender for several years on one of the biggest investments of your life, you probably have developed a good relationship. Knowing that they're responsive, attentive, and easy to work with is important when you're trusting them with your finances.
Ask yourself these questions about your lender's service before shopping around for a refinance:
Were you kept informed of everything that was happening with your mortgage?

Do you feel like you had your loan officer's full attention?

Did you get a great rate?

Has your lender kept in touch?
If you feel like we could help more with any one of these areas, please let us know – our client support is one of our top priorities, and we want to do everything we can to help you with your loan.
Your current lender will want you to stay
Ultimately, your lender values you as a client and wants you to refinance in-house. "Most lenders want to keep their customers, most lenders want to preserve that relationship," said Kan. "They want to keep the servicing of the loan; they want to keep the customer [happy]."
We definitely want all our clients to feel happy and comfortable enough to refinance with us. If you're looking into refinancing, talk to us first about our different programs and rates. We would love to help you in any way that we can.