What to Know About Homeowners Insurance Before Selling Your Home
Blog posted On July 22, 2021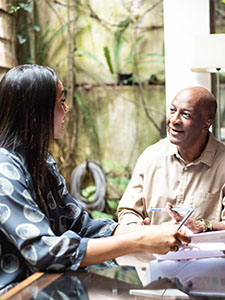 Moving to a new home is an exciting adventure. Chances are, if you're moving, you're focused on the next step – picking décor for the new house, arranging plans for travel, and imagining your future life. There's a lot going on during a move, and it's easy to forget little details. One detail you should never forget is your homeowners insurance.
Keep your insurance until closing
You're the owner of the property you're selling until all of the official closing documents are signed. So, if you're tempted to drop your insurance before then, you may want to think again. If any damage happens to your house before closing, you will be responsible for the costs. Overall, selling your home without homeowners insurance isn't a great idea. "It's an unreasonable gamble to put an asset worth hundreds of thousands of dollars at risk for the sake of saving a few hundred over the short term," advises real estate company, Century21. Once your sale has officially closed, then you can reach out to your insurance company with documentation of the sale and request to cancel coverage.
Look for new insurance early
Unfortunately, you can't just transfer your current homeowners insurance policy to your future home. You might be able to shop around within the same company, but you will need a new policy. If you stay with the same insurance company, it coulld simplify some of your paperwork. It might be wise to browse around for better rates at other companies as well. Plan to start this process early and strive to get at least three quotes – either from an insurance company or an insurance broker. You will need to get a new policy before closing on your new home, so make sure you start well before the closing date. Even if you're not financing your new home with a lender, you should still start shopping for a policy ahead of time. "If no financing is necessary, you should go to your [insurance] agent a few weeks before the projected closing, to give them all the information needed to get quotes and purchase the new policy with an effective date on the closing of the new home," says Ken Gregg, CEO of Orion180, an insurtech platform.
Don't worry about showings and inspections
The idea of having hordes of strangers strolling through your house sounds like a recipe for disaster. Don't worry! Your regular homeowners insurance covers any damages or injuries from showings and open houses.
Let your insurer know if your home will be empty pre-closing
Empty homes are an increased liability in the eyes of insurers. With no one around to notice leaks or break-ins, your house is at a greater risk of damage. "If you are able to stay in the home until it sells, you should," says Gregg. "Insurers are likely to cancel the policy if the home is vacant or to deny a claim if it is determined the loss occurred while the home was unoccupied." You might not be able to stay in your home until selling, and if that's the case, then make sure you let your insurance company know. Brief vacancies may be accepted by your insurer. Longer vacancies might be harder to cover. "Generally, homes that are vacant for an extended amount of time will have coverage limitations or be ineligible for standard homeowners coverage," says Angela Orbann, Vice-President of Property and Personal Insurance at Travelers.
Make sure you're covered for the move
If you've moved before, you know the risks of finding a broken plate or two when you reach your destination. Make sure that your insurance company will cover your belongings in all steps of the move – some companies only cover them while they're at your residence, in storage facilities, or in transit – not when they're being handled by any movers.
Before you get too wrapped up in the next step, make sure you're taking care of everything at your current home first. If you're planning on moving, start shopping for your new homeowners insurance policy now to ensure there's no lapse in coverage.
Sources: Money