What to Know About Buying a Home Near a Busy Street
Blog posted On February 20, 2020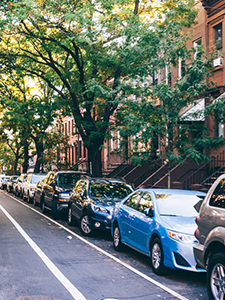 When you start looking at homes online, you may fall in love with the curb appeal of a home without stepping foot on the actual curb. While online listings are a great place to start, you should always visit the home in person before you make an offer. The home itself may be perfect, but the neighborhood might not be the best fit, and the one thing you can't change about the home is the location.
One thing you may find out by visiting the home is that it's located on or near a busy street. Depending on your other needs, buying a home near a busy street may not be a deal breaker, but you should consider the pros and cons.
You'll get:
Easy Access to Transportation and Businesses
When you live on or near a busy street, you may have an easier commute to work and to anywhere else you need to go. In addition to more access for driving, you may also be closer to public transportation like bus stops or train stations. Running to the grocery store might be a quicker trip. Coordinating dropping the kids off to school and getting to work may take less time as well.
But you'll also get:
Traffic Noise
You'll have easier access to the street, but so will everyone else. When you visit the home, pay attention to the noise level and talk to the neighbors. Is traffic heavier at certain times of the day? Are the weekends just as busy as the weekend? If you are sensitive to noise or if you have young children who need to take naps or anxious pets, living near a busy street may not be right for you.
You might get a:
Lower Price
Since homeowners tend to prefer living away from busy streets, you may actually get a lower price on the home, when compared to similar properties on quieter routes. The seller knows what it's like to live near a busy street and wants to sell their home, so they've likely priced it accordingly. That lower home price might allow you to save just enough to invest in ways to block out the street noise like sound barriers for your walls!
But you might also:
Have Trouble Selling
When you buy a home you probably aren't selling it right away, but you may need to sell it eventually. You may have to move to a new location for a job, you might want to downsize in retirement, or you could just get tired of living on a busy street. When you are buying a home on a busy street, consider the resale value.
You'll probably start your home search online, but don't forget to visit the home in person. Professional photos are designed to showcase the home's best features. There are some things you won't notice unless you see for yourself.
Sources: Realtor.com