What to Expect This Fall, According to the Experts
Blog posted On October 13, 2020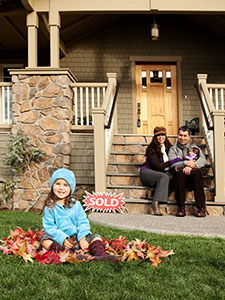 In recent months, home sales have been rising at a record pace. In August, existing home sales surged to a seasonally-adjusted annual rate of 6 million – the fastest pace in 14 years. New home sales also reached record-highs in August, surpassing 1 million for the first time since 2006. "Buyers are moving forward in record numbers," said Adam Contos, CEO of real estate brokerage RE/MAX Holdings. The housing demand is booming right now, but how long will it last?
According to chief executive officer and president of Realogy, Ryan Schneider, the recent housing market momentum is not a "blip on the radar." He predicts that the effect of the coronavirus pandemic will extend far beyond the current demand for houses. The virus has caused "fundamental societal shifts in Americans' perspectives on both homebuying and the home itself," that will continue to influence the housing market as a whole. Technological advancements such as virtual home tours and 3D mapping have made the homebuying process much more convenient for many buyers, and experts think this convenience will make it easier to tour and buy homes.
Other experts believe that the coronavirus pandemic will continue to drive buyers into the market for reasons beyond lower mortgage rates. With stay-at-home orders, quarantines, and social distancing, many people have reevaluated the importance of owning a home. Now, home is more than where your heart is. Home is where you work, go to school, live, play, and spend the majority, if not all, of your day. More time spent at home has caused many people to want more space in their homes – whether that's a fenced-in backyard, a bigger home office, or a playroom that's not in the kitchen.
The recent demand for suburban single-family homes has led to a large increase in construction spending – with 42% of construction spending in August attributed to residential projects. According to the National Association of Home Builders' chief economist, Robert Dietz, housing has been and will remain a bright spot for the economy.
The general consensus of housing experts is that demand will continue to rise "at an unseasonable rate" – but with growing demand comes growing pains. Right now, one of the only issues facing the housing market is the limited inventory. Unsold inventory was around a three-month supply this summer, which is well below the six-month supply of a balanced market. With higher-priced lumber, limited availability of skilled construction workers, and fewer sellers on the market, the supply shortage is expected to continue this fall.
However, as the coronavirus eases and sellers return to the market, home prices and home inventory are expected to return to normal as soon as next spring, according to real estate data provider, ATTOM Data Solutions. the housing demand is high right now – for good reason. With low mortgage rates, more time spent at home, and more millennials entering the market as first-time home buyers, we are likely to have an uncharacteristically busy market this fall.
Buying a home has become easier than ever. From 3D tours, to virtual walkthroughs, digital contracts, to ample loan options – there are several tools that can help you reach your homebuying goal. We'd love to be a tool as well, so let us know if you'd like to learn more about the homebuying opportunities this fall!
Sources: MarketWatch, MarketWatch, Money