What a Spike in COVID-19 Cases Could Mean for Housing
Blog posted On December 29, 2020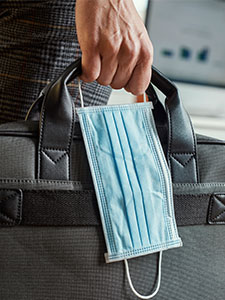 When the coronavirus spread to the United States, home sales had seen nine consecutive weeks of year-over-year declines. From stay-at-home orders, to stock market dips, to widespread financial hardship – buying and selling homes were low on the list of concerns for many Americans during the Spring. Though the housing market has recovered – prospered even – at a shocking rate, many question how long this growth will last with COVID-19 cases on the rise.
Last month there was a 70% increase in daily COVID infection rates across the U.S. Conversely, there was a 28% increase in year-over-year home purchase application submissions and a 102% increase in refinance application submissions. However, as the winter months force more people inside and drive-up infection rates, it is expected that purchase applications will moderate.
Luckily, there are two factors that can keep the economy and the housing market from dipping the way they did in March and April. First, we now know more about COVID and it is not our first experience with the virus. We have learned how to consume goods and services in a safe fashion. We have found ways to continue working in socially distant spaces. We better understand what precautions to take and how to prevent the spread of the virus. Second, we now have more COVID tests available for the public, more promising treatments, and more signs of effective vaccines.
Our COVID-related experience and advancements have given us an edge on the upcoming case spike that is likely to occur. When COVID struck the U.S. this Spring, widespread fear and shock infected the nation. The reaction was normal given the newness of the situation. However, now that we have more information about the virus, the unexpected terror that took hold of the economy will not be replicated simply by infection spikes.
Therefore, though a slight housing slowdown is to be expected with COVID case spikes, growth should still occur. Logan Mohtashami, housing data analyst for HousingWire, predicts single digit growth in the coming months. While the infection rate will be slowing the current double-digit growth, the expansive housing demographic and historically low mortgage rates will soften the blow. Even if mortgage rates have a slight uptick in the coming months they will still be in a historically low range. And with the help of Biden's proposed $15,000 first time home buyer tax credit the accessibility could expand even further.
The housing market has been booming the past several months at historical rates, but this sharp growth doesn't normally continue on a long-term path. Even if COVID miraculously didn't spread this Winter, purchase application moderation would likely still occur. Relative to previous Winters, the coming months are actually expected to be busier than usual in the real estate industry.
If you're planning on buying this Winter in this competitive market, you can get started on your mortgage prequalification at our company website.
Sources: CNBC, HousingWire, NPR, Mortgage News Daily