Selling Your Home When Interest Rates are Low
Blog posted On September 22, 2020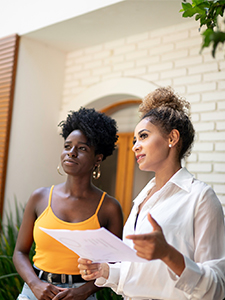 You know low interest rates are an incentive for home buyers, but a low interest rate environment can actually benefit home sellers as well. When you sell your home when rates are low, you can usually count on strong buyer demand and multiple offers. As the seller, this will give you more negotiating power and you can typically net a higher profit since you won't have to lower your asking price to compete for buyers. You may also to be able to sell your home shortly after listing, rather than having it linger on the market waiting for the right buyer. If you're buying a new home yourself, you'll also be able to lock in a relatively low interest rate on your new mortgage.
If you're thinking about listing your home, here's why you may want to make your move.
More Buyer Demand and Faster Home Sales
After a stunted spring buying and selling season, home sales ticked up in the late summer. Some buyers who postponed their plans due to the coronavirus pandemic are back on the market while other buyers are looking to lock in a low interest rate on their new home. When you have more buyers on the market you can expect to sell your home more quickly and may even get multiple offers. Make sure you work with a trusted real estate agent that can help you navigate the offers. Your agent will help you determine which offer best fits your needs and may even be able to connect you with a buyer through their network.
More Negotiating Power and Higher Profits
When buyer demand outpaces housing supply, you as the seller may have more negotiating power and even be able to get a higher profit than if you were selling in a balanced market. The best way to navigate negotiations is to work with an experienced real estate agent that knows your market and can help you set reasonable expectations.
Lock in a Low Rate on Your Next Mortgage
When you're selling your home, you're also likely buying a new home around the same time, unless you are moving to a rental or combining households. In a low interest rate environment, you'll also be able to lock in a low mortgage rate on the mortgage on your new home. The profit from your home sale combined with low interest rates could mean now is the time to sell.
Typically, home buyers and sellers are busier in the spring and summer. Families with children may choose to move during the summer as not to disrupt the school year. Summer vacations could also mean it's a slower time at work and easier to make a move. With the coronavirus pandemic causing many regions to shift to remote work and distance learning, home buyers and sellers can be more flexible. Real estate professionals expect a busy Fall and Winter. If you have any questions about buying or selling your home, let us know.
Sources: The Balance