Prepare for Bidding Wars this Fall
Blog posted On October 06, 2020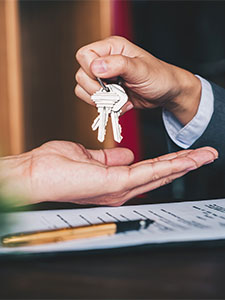 In August, over half of the home offers made by Redfin-represented buyers facing competing offers for the fourth month in a row. Despite the fact that home sales tend to slow down in the fall and winter months, this year's continued increase in buyer demand and limited home supply suggests that bidding wars are likely to persist.
If you're buying or selling a home this fall, you may consider working with a real estate agent to help you navigate the competitive market. An experienced agent can help guide you through the bidding war process and give you an upper hand in negotiations. In addition to working with an agent, there are other ways you can navigate bidding wars this fall, whether you're making or accepting the offers.
Consider Payment Methods
Financing with a home loan might be necessary for some buyers, but when you can, paying in cash can strengthen your offer. Cash offers generally make the closing process quicker and easier. Unlike loans, cash offers don't require inspections, appraisals, or approval from lenders. Offering cash shows the seller that you are serious and ready to buy.
If cash isn't an option, try to get loan preapproval before submitting your offer, or better yet, before starting your house search. Preapprovals show the seller that you will qualify for a loan at the agreed price, which is a good sign that you will close on the purchase of the house.
Increase Your Down Payment
As a seller, If multiple buyers are preapproved for a loan, look for the buyers who have the largest down payments. Larger down payments show that the buyer is likely to get approved for their loan and will likely be more prepared to finance any unexpected expenses in the closing process. A down payment of at least 20% is a good sign.
As a buyer, it might be useful to increase your down payment in a bidding war because it shows the seller you are serious. If making a higher down payment doesn't seem doable with your current funds, consider HomeFundIt™, our down payment gifting platform that makes it easier for your friends and family to help you reach your down payment goals.
Waive Contingencies
Contingencies are precautions that protect the buyer from any issues with the house's structure or systems, as well as issues that affect your mortgage terms. The more contingencies you waive as a buyer, the more risk you take on.
This can strengthen your offer because the more contingencies a buyer waives, the fewer opportunities they have to walk away from the closing. For example, with the inspection contingency, the buyer can request repairs or cancel the purchase and the appraisal contingency allows the buyer to renegotiate the deal or cancel the purchase.
Lindsay Katz, a Redfin real estate professional in Los Angeles, said that she recently sold a house to a buyer who "triumphed over 11 other bidders by waiving the appraisal and inspection contingencies." Before you choose to waive contingencies, always check with your real estate agent.
Offer Flexibility
Offers with flexible buyers are almost as strong as cash offers, according to Redfin. Buyer flexibility is a key detail to look for as a seller. When the buyer is flexible with the closing date, you may have more time to fix repairs or continue living in your house until you move into your next home. Redfin reports that being flexible on a closing date is almost as appealing as a higher bidding offer.
Relate to the Seller
Selling a home can be an emotional process. Connecting with the seller on a human level can help ease the tensions and remind them of your shared goal. You can reach out by writing a personal letter that expresses how much you appreciate the home or meeting the seller in person. Talking to them in person may not be an option, but if it is, it might be worth the try. Remember: several other people are chasing after your same goal. Anything that makes you stand out or show your commitment to the purchase could help.
Winter may be coming, but the housing market doesn't seem to be cooling off. There are several ways you can prepare for bidding wars this fall. If you're not paying in cash, one of the best ways to prepare for bidding wars is talking to a loan officer about getting preapproved for your mortgage before you start shopping.
Sources: HousingWire, Realtor, Redfin, Money