More Sellers Requesting Proof of Preapproval Before Allowing Buyers to Tour Home
Blog posted On July 28, 2020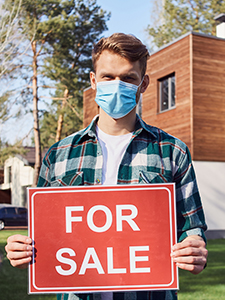 When you're thinking about buying a home, you may not think about your mortgage right away. You could have some idea of what you'd like to put down for a down payment, but the mortgage preapproval process requires extensive paperwork and your preapproval letter is typically only valid for 60 to 90 days. While real estate professionals have always advocated reviewing your mortgage options before shopping for a home, current market conditions have made preapproval more important than ever. Mortgage rates have touched down to record lows, buyers are competing over a limited number of homes for sale, and because of the pandemic, sellers are wary of allowing too many strangers into their homes. In fact, some sellers are requiring letters of preapproval before welcoming prospective buyers into their homes. Here's what you need to know.
Getting prequalified for a mortgage is the first step in the mortgage process and gives you an estimate of how much you can qualify for based on data you submit. Mortgage preapproval takes the process a step further by verifying your data with documentation and a credit check. Depending on the seller and the market, some sellers may accept proof of prequalification.
When you apply for mortgage preapproval you will need your latest pay stubs, at least two years of federal tax returns and W2s, proof of down payment funds, and any recent residential history whether you are currently renting, or paying a mortgage on a home you own. The lender will do a hard credit pull and your credit score will be impacted, but usually only by about five points. When you are shopping around with different lenders, your credit score will not take multiple hits if you complete your preapproval applications within a span of 30 days. A typical preapproval will last about 60 to 90 days. If you need more time and your financial situation remains the same, you may be able to extend your preapproval.
When a seller requests proof of preapproval, they are required to ask all prospective buyers. If the seller is only asking for proof of preapproval from some potential buyers, that could be a form of housing discrimination. Some of the other ways sellers are keeping their homes safe during the pandemic, is limiting daily tours, leaving doors open and lights turned on to reduce the need to touch surfaces, providing hand sanitizer to guests, and requiring the use of shoe covers and face masks. Some sellers are also using video tours or virtual listings to showcase their homes from a distance.
With many regions experiencing busy housing markets and mortgage rates at all-time lows, starting the mortgage process before you start shopping for a home is a good idea whether the seller is asking for proof of preapproval or not. If you have any questions about applying for a mortgage, please let us know.
Sources: Investopedia, Money.com, My FICO