Market Recap: Home Prices Appreciate, Mortgage Applications Jump, New Home Sales Decline
Blog posted On November 27, 2020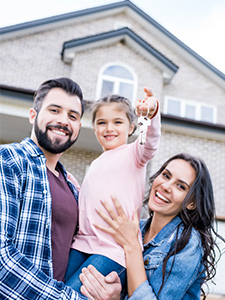 Mortgage rates were relatively unchanged this week and remain near record lows. The S&P CoreLogic Case-Shiller home price index showed an appreciation in home prices. Both new purchase and refinance mortgage application submissions jumped. New home sales dropped slightly.
Home prices in September rose at a seasonally adjusted rate of 1.3% month-over-month and 6.6% year-over-year. The largest increases in home prices occurred in Phoenix, Seattle, and San Diego. The smallest increases were in New York and Dallas – two cities that were hit hard with the spread of the coronavirus early in the pandemic. Though home prices may be rising, economists at MarketWatch don't foresee demand sharply declining – especially if a coronavirus vaccine is proven effective and becomes widely available for the public.
For the week ending 11/20, the number of mortgage application submissions ticked up for both purchases and refinances, leading to a composite increase of 3.9%. Record-low mortgage rates drove new purchase application submissions up at a week-over-week rate of 4%. Refinance submissions rose 5% week-over-week and 79% year-over-year. "The ongoing refinance wave has continued into November, and both the refinance index and the share of refinance applications were at their highest levels since April," said Joel Kan, the MBA's associate vice president of industry and economic forecasting.
New home sales fell in October, dropping 0.3% to a seasonally adjusted rate of 999,000. Year-over-year, however, new home sales surged 41.5%. Economists at Reuters had expected sales to rise 1.5%, but the rise in coronavirus cases likely affected the sales rate.
Sales might be facing a seasonally related slowdown, or a drop related to spreading coronavirus cases. However, they are still at the highest level seen in years and are likely to remain this way if an economic rebound gains momentum. With home prices increasing, down payments are likely to become more expensive in the future. Luckily, we have several low down payment options and down payment assistance like our HomeFundIt™ platform. If you would like to learn more about these opportunities, let us know.
Sources: MarketWatch, MarketWatch, Mortgage News Daily, HousingWire, Reuters