Market Forecast: Job Openings, Mortgage Apps, Consumer Price Index
Blog posted On February 08, 2021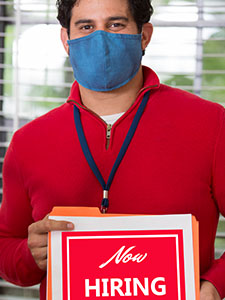 Mortgage rates remained relatively unchanged last week and continued to trend near record lows. This week, the Labor Department's report on job openings is scheduled for release on Tuesday. On Wednesday morning, the weekly mortgage application survey will be released, followed by the consumer price index later that afternoon.
The Labor Department's Job Openings and Labor Turnover Survey (JOLTS) tracks month to month changes in job openings, hirings, and voluntary quits. In November, the job openings survey revealed a slight drop, down 100,000 to hit 6.5 million. Also revealed in the survey was the highest number of layoffs since June due to rising coronavirus cases. Climbing by roughly 300,000, layoffs reached a five-month high of nearly 2 million in November. Hires were little changed in November, reaching 5.8 million, while separations increased marginally to reach 5.4 million.
The Mortgage Bankers Association (MBA) weekly mortgage application survey tracks week to week changes in the submission of new purchase and refinance mortgage applications. For the week ending 1/29, mortgage application submissions jumped a composite 8.1%. Refinance application submissions rose 11% to reach their highest level since March 2020. Though purchase application submissions increased just 0.1% week-over-week, they are up 16% from last year. "The one-week reversal in the recent upswing in rates drove an increase in both conventional and government refinance activity, as borrowers continue to lock in these historically low rates," said Joel Kan, associate vice president of economic and industry forecasting for the MBA.
The consumer price index tracks the changes in the average prices of a fixed basket of goods and services sold to final consumers. In December, the consumer price index rose at the fastest pace since August – up 0.4%. Though nearly two-thirds of this increase was due to a rise in gas prices, up 8.4%, gas prices are still down by 15% compared to December 2019. The cost of food increased by 0.4%, but the pace of inflation was still relatively low – just 1.4% annually. Prior to the pandemic, inflation was at 2.3%.
With the coronavirus pandemic still affecting the global economy, inflation has remained low. Similarly, the Federal Reserve has remained committed to the American economy's recovery and kept interest rates low for the past several months. To take advantage of the historically low rates, consider investing in real estate. If you're interested in learning more about the benefits of buying now, contact us today.
Sources: HousingWire, MarketWatch, MarketWatch, MarketWatch, Mortgage News Daily