Market Forecast: Construction Spending, Mortgage Apps, ADP Employment Report
Blog posted On January 04, 2021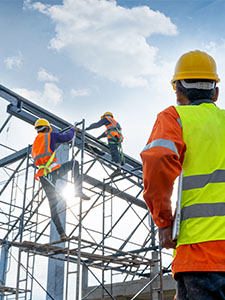 Mortgage rates remained relatively unchanged last week but continued to brush historic lows. The report on U.S. construction spending is scheduled for release today. The weekly mortgage application survey and the ADP employment report will both be released on Wednesday.
The U.S. construction spending report tracks total spending on private and public construction projects. In October, construction spending rose by 1.3% at a seasonally adjusted, annual rate of $1.44 trillion. Residential spending was much higher than that of non-residential projects, rising 2.9%. Non-residential project spending remained unchanged. Public spending increased by 1%. Construction spending has increased over the past several months in an effort to meet the high demand for homes. Bloomberg predicts this trend to continue, but at a slower pace.
The Mortgage Bankers Association (MBA) weekly mortgage application survey tracks week to week changes in the submission of new purchase and refinance mortgage applications. The MBA has not released data for the week ending 12/25, but it is scheduled to come out on Wednesday along with the data for the week ending 1/1. For the week ending 12/18, mortgage application submissions saw a composite increase of 0.8%. The refinance index increased 4% from the week prior and is up 124% year-over-year. The purchase index decreased 5% but is still up 26% from the same week last year.
The ADP employment report is based on data from approximately 400,000 US businesses employing approximately 23 million employees nationwide. In November, private sector hiring slowed again, adding only 307,000 jobs compared to October's 404,000. Large companies added just 58,000 jobs to their payrolls, while mid-sized companies added 139,000 jobs, and smaller businesses added 110,000 jobs.
Though 2020 was a year of record-lows for mortgage rates, some experts recommend that home buyers take advantage of the rates now. "At some point, the record run will be over, and the turning point is getting closer all the time," says Matthew Graham, chief operating officer of Mortgage News Daily. If you are interested in taking advantage of rates right now, let us know – we would be happy to help you start off the new year with a new home!
Sources: Bloomberg, MarketWatch, MarketWatch, MBA, Mortgage News Daily, Mortgage News Daily, PR Newswire