Market Forecast: Case-Shiller Home Price Index, Mortgage Apps, New Home Sales
Blog posted On November 23, 2020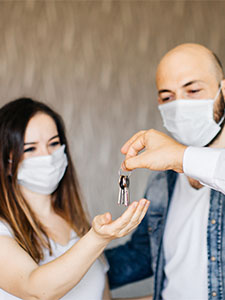 Mortgage rates trended downward last week and continue to remain historically low. This week, the S&P CoreLogic Case-Shiller home price index is scheduled for release on Tuesday. On Wednesday, the weekly mortgage application survey will be released by the Mortgage Bankers Association (MBA). New home sales are also scheduled for release on Wednesday.
The S&P Case-Shiller home price index tracks changes in the value of homes involved in two or more sales transactions across twenty major metropolitan areas throughout the country. Though the data lags by a month, it is still used to gauge home price appreciation trends. In August, the index only reported on 19 of the 20 cities due to insufficient data from Detroit. Among the remaining 19 cities, Phoenix had the highest annual gains, with a 9.9% increase. The city with the second most annual gains in home prices was Seattle, up 8.5%, followed by San Diego, up 7.6%. Overall, home prices appreciated at a seasonally adjusted rate of 0.5% month-over-month, and 5.7% year-over-year.
The MBA weekly mortgage application survey tracks week to week changes in the submission of new purchase and refinance mortgage applications. For the week ending 11/13, mortgage application submissions had a composite decrease of 0.3%. Though the new purchase index increased by 4%, the refinance index dropped by 2%. MBA associate vice president of economic industry forecasting, Joel Kan, said that the drop in refinance application submissions can be attributed to the "sharp decline" in FHA and VA applications. Year-over-year, new purchase application submissions rose 26% and refinance application submissions increased by 98%.
The new home sales report tracks the sales of newly constructed homes and accounts for about 10% of total residential real estate transactions. New home sales fell 3.5% from August to September, hitting a seasonally adjusted rate of 959,000. Though new sales trended downward month-over-month, they are still up 32.1% year-over-year. As the coronavirus pandemic continues, home buyers are seeking less-populated areas than the city with more space to work and learn from home.
Though 2020 has been a year like no other, there is still a lot to be thankful for – especially in the housing industry. Home buyers have been able to take advantage of some of the lowest rates in history, while homeowners have gained valuable equity in home price appreciation. And us? We are extremely thankful that we get to continue serving you. If you're interested in purchasing or refinancing your home – we would love to help – contact us today or get started on our website!
Sources: CNBC, CNBC, Econoday, HousingWire, MarketWatch, Mortgage News Daily