Low Mortgage Rates Could Bring Out the Next Wave of Millennial Home Buyers
Blog posted On June 09, 2020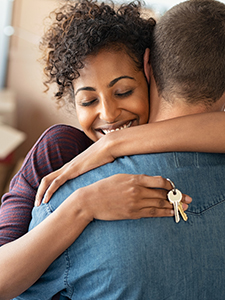 With this year's home buying and selling season disrupted by the coronavirus pandemic, some real estate professionals are predicting a delayed busy season this summer. Historically low mortgage rates plus cheaper homes for sale could mean the next wave of Millennial home buyers is primed to make a purchase. After a few years of climbing mortgage rates and steady home price appreciation, previously sidelined first-time home buyers may find current market conditions more affordable.
Is it a good time to buy?
Whether or not it is a good time to buy depends on your personal circumstances. People will always be buying and selling homes, so you shouldn't base your decision to buy a home on whether or not it's "a good time to buy." Lower average mortgage interest rates mean that by buying now with a fixed-rate mortgage, you could lock in a low interest rate, and lower mortgage rate for years to come. However, lenders will look at other factors specific to your financial profile before approving you for a loan.
Did you lose your job or lose wages and suffer an income disruption during coronavirus-related closures? Did you take on more debt through credit cards or personal loans to cover these losses? Have you been able to maintain a good credit score? Lenders look at your employment history, your debt-to-income ratio, and your credit report before approving you for a mortgage loan. Low average mortgage interest rates do not guarantee that you will qualify for a low rate. If you kept your job, manage your debt responsibly, and monitor your credit, you could be in a better position to qualify for a low mortgage rate, and it could be a good time for you to buy.
What should I expect in terms of home prices?
Reacting to the coronavirus pandemic caused a global economic slowdown, but not the same type of Financial Crisis we experienced in 2008 when home values fell. Healthy economic conditions before coronavirus-related closures have led to annual home price appreciation in most metros.
The prices on homes for sale are also determined by market supply and demand. With fewer homes for sale, sellers may be able to price their homes higher, but with fewer buyers on the market, sellers may have to price their homes more competitively. Overall, home values have continued to appreciate, but at a slower pace than previous years.
Can I afford to buy a home?
In many regions, the average monthly mortgage payment is equal to or less than the average monthly rental rate. Buying a home is also a way to build equity in an investment. If you ever need to use your home equity, you can do so with a cash-out refinance.
When you buy a home, you'll have to cover the upfront costs of your down payment and closing costs. There are numerous ways to help cover these costs through down payment assistance programs and other grants. There are many programs designed specifically for first-time home buyers. If you think you can afford the cost of your monthly mortgage payment but are unsure about the down payment and closing costs, talk with a loan officer. You may be able to afford to buy a home sooner than you think.
Sources: Vice