How to Use a Cash-Out Refinance to Fund Your Next Purchase
Blog posted On April 07, 2022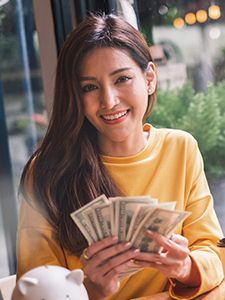 Homeowners have been gaining record amounts of equity in recent years – giving them more financial power than ever. If you've been considering investing in more real estate, now might be the time to make your move with a cash-out refinance.
What is a cash-out refinance?
A cash-out refinance allows you to exchange some of your home's equity for cash. With a cash out refinance, you can make updates to your home without dipping into savings or taking out a personal loan. You can also use this cash to fund a down payment on your next home.
How does a cash-out refinance help you?
Every year that you've owned your home, you've earned more home equity. If you sell, you could be in a position to buy a nicer, newer home in a better neighborhood. But you also will likely face steep home prices and high buyer competition. With a cash-out refinance, you can make the changes you want without entering the market. An alternative way to use a cash-out refinance is by using the cash to finance an investment property or second home. Then, you can gain another source of cash flow from rental profits without having to use savings and bank on recouping those assets.
Be aware of the risks
However, it's important that you don't over-leverage yourself or spread your finances too thin. While you can take a significant amount of equity out of your home with a cash-out refinance, it may not always be the right move. Home prices can depreciate in value sometimes, which could bring your equity amounts lower than you had planned. So if you're going to use a cash-out refinance for a second purchase, make sure you leave enough equity in your home. Most expert recommend having at least 20% equity in your home.
We offer several refinance options including rate-switch refinances, term adjustments, and more. To learn more about our different types of refinances and an overview of the refinance process, contact us today or check out our refinance guide.
Sources: Motley Fool