How to Increase Your Home's "Screen Appeal" for Social-Distanced Selling
Blog posted On May 21, 2020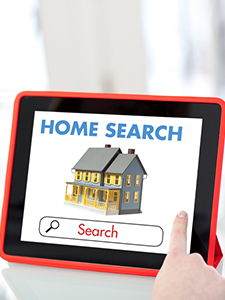 Before you list your home for sale, spend some time researching and staging your home to maximize your space and give it a more neutral palette for prospective home buyers to imagine themselves there. With stay-at-home ordinances and social distancing guidelines in place, you may be relying more on photos of your home and video tours rather than in-person tours. Your home looks great when you're in it, but how will it be perceived through a virtual listing?
Here are some tips for upping your home's screen appeal:
Take Test Photos
When you're listing your home, you're going to want to invest in professional photos, so your home looks it's best. Before having a professional photographer come over, take some test photos to see how your current setup translates on screen. Your photographer will only be able take pictures of what's already there. If your test photos make your space look cluttered, clean things up. You don't want to pay for photos only to find out they are unusable.
Do a Practice Walk-Through
If you plan on giving a video tour of your home, be sure to do a practice walk-through by video chatting with a friend or with your Realtor or real estate agent. Giving an in-person walk-through is one thing, the prospective buyer can look around at everything on their own. When you're giving a video tour, they're only going to see what you show them. Make sure you're highlighting your home's best features. And keep the walkways clear! You don't want to stumble or fall during your video tour.
Try Virtual Staging
Staged homes tend to sell faster, because they give the home buyer an idea of what will fit in the room and what it will be like living there. If your home is already empty and you are unable to stage it because of travel restrictions or other coronavirus-related restrictions, consider virtual staging. Through virtual staging you can digitally add furnishings to a blank photo of your home and make it look more natural. There are online services and mobile apps that make virtual staging easy. Ask your agent for some recommendations.
As an essential business, mortgage lenders and banks are still open, and people are still buying and selling their homes. You may have put a lot of thought into your home's curb appeal, but because of social distancing procedures you're going to have to improve its "screen appeal" as well. In the first few weeks of March, real estate listing site Zillow saw a 191% increase in 3D home tours. If you have any questions about buying or selling your home this summer, talk with an agent or let us know!