9 Quick Ways to Decorate Your Home for Thanksgiving
Blog posted On November 24, 2021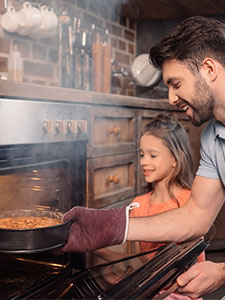 You've called the family. Your kitchen is cleaned and ready to go. You have the turkey, mashed potatoes, gravy, cranberry sauce, and all your favorite baking ingredients. Everything's ready for you to host Thanksgiving at your house. But what about the decorations? The table centerpiece? The placemats? In case you need some last-minute help with festive décor, here are nine quick DIY projects that can help spice up your home's Thanksgiving vibe.
Front Door
Pinecone door decor
Your front door sets the tone for the rest of your house. You want it to be welcoming and festive, but still relatively easy to make. While wreaths can require more intensive crafting, other door decorations are simpler. One simple door decoration can be made with silk ribbon, pinecones, and superglue. First, you will want to collect (or buy) several pinecones – for this project specifically, eight is the recommended number. You will also want to cut eight strips silk ribbon – each measuring two feet long. To make the decoration more festive, aim for fall-colored ribbon – orange, maroon, yellow, red, or other amber tones. Once you have the eight strings of ribbon cut, hot glue the last two inches of each ribbon to a different pinecone. Once the glue is dry, tie the top ends of the ribbon together into one bow or knot. Try to get the pinecones falling at different lengths. Finally, trim the excess ribbon at the top of the knot, and slip it over your front door wreath hook.
Centerpieces
Single vase and mini pumpkins
If you have several guests coming over for Thanksgiving dinner, you likely want to keep your centerpiece small and simple. One easy way to add a little festive flair to your table (without taking up too much room) is with a cake platter topped with mini pumpkins. You could also add bulb vases with a thin, fall colored branch.
Hazelnut-filled candle holders
This option can help you set the dinner mood and the seasonal mood. If you don't have hazelnuts, almost any large nut will do – acorns, walnuts etc. If you don't have larger candleholders, short vases will do as well. For extra flair, you can weave a full colored satin ribbon in between the candleholders and sprinkle the nuts of choice throughout as well.
Table Runners
Eucalyptus and apples
Eucalyptus can add an immediate festive vibe to your Thanksgiving table. It's relatively easy to find, and it's quick to set up. Garnishing it with some apples intertwined can give the table a bit more color and flare. Another option could be intertwining small, decorative pumpkins to your eucalyptus strands to add color to the table.
String lights and shrubbery
If you're not really a candle person, another way to add a bit of soft lighting to the table is with a string of lights. Of course, you will want to make sure their battery powered so that they are not dangling off the table and plugged into a wall outlet. Combined with the strand of bouquet filler or other fake shrubbery of your choice, and you can have a nice, simple table runner.
Placemats
Craft paper and personalized placemats
Adding personalized touches to your table can give your guests a warm, welcome feeling. An easy way to do this is with brown craft paper and a white paint marker. If you want, this can be a whole family event and you each can decorate your own placemat.
Acorn napkin holders
Another easy way to add a touch of fall to your table is with some acorns and silk string. You don't necessarily need to tie the string to the acorns. Instead, simply wrap your cloth napkins with the string and then touch up the plate with a couple of acorns.
Rosemary and twine
Rosemary and twine decorations are another simple way to spice up your place setting. Wrap the rosemary with the twine, and place in the center of the plate.
Pinecone nametags
As mentioned, any personal touches can make your guests feel more welcome and included. For this decoration, you will want your pinecones to be smaller than the door décor. Think palm-sized pinecones. Then, you can cut up some construction paper and two small, business-card sized squares and write each guest's name in Sharpie. Place the name card propped up in the pinecone and set each at the top of the place setting.
Hosting Thanksgiving may feel overwhelming at times, but you can add a lot of fun to it as well. Part of the enjoyment of owning a home of your own is hosting gatherings and decorating as you please. Happy Thanksgiving from our family to yours!
Sources: Apartment Therapy