6 Factors that Affect a Home's Price
Blog posted On March 02, 2021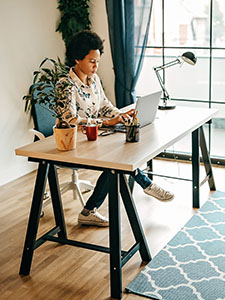 Home price appreciation has surged over the past year – up 10.1% year-over-year, according to the recent Case-Shiller home price index report. This is the first time that home prices have seen a double-digit gain since 2014, as more buyers have been flooding the housing market and fewer homes have been available for sale. Whether you're a proactive homeowner getting your house ready to sell, or a savvy home buyer looking to make a smart investment, knowing which factors affect a home's price could help you maximize your returns in the future.
Space for home offices
With more companies deciding to expand or extend their work from home policy, more people have been either renovating their current homes or purchasing new homes to incorporate home offices. In July 2020, more than 20% of home buyers said that prioritizing a home office was important to them. Plus, the longer that people are working from home, the stronger their desire is to stay working from home. During the pandemic, 42% of the U.S. work force has been working from home full-time, and many have grown to enjoy it – with 61% of workers saying they want to work remotely indefinitely and 29% of workers saying they would even quit if they couldn't continue working remotely. Currently, homes with space for an office are selling for around 3% higher than those without.
Number of bathrooms
When it comes to bathrooms, your home's value could decrease if there is a disproportionate number of bathrooms to bedrooms. For example, four bedrooms and only one full bathroom – then your sales price could be driven down by thousands of dollars. A study by Opendoor found that adding on one more bathroom to a house could boost its sales price by 6%, while simply remodeling an existing bathroom would even add around 4% to your home's value.
Pools and landscaping
Though pools and other elaborate home features can draw the attention of many buyers, it may not always generate the amount of return that a homeowner expects. While pools are nice to enjoy on a hot summer's day, they also can be a significant investment to keep well maintained. "I've seen times where a pool has increased value and I've seen times where it's played no factor," said Kris Lindahl, CEO and founder of Kris Lindahl Real Estate. "And I've also seen times where it's decreased the value."
Surrounding schools
One of the reasons why REALTORS® always emphasize 'location, location, location,' is because of school districts. According to a 2015 study by Realtor.com, one in three buyers would settle for a smaller home that is in a location with a better school district. People value school districts highly because they want their children to have access to the best public education possible. A New York Times analysis found that a 5% improvement in student test scores can increase a homes' price by 2.5%. Buying a house in a good school district typically ensures a good resale value when it's time to sell
Nearby grocery stores
If your home is located near a school, that will likely be beneficial for its value. If your home is located near a school and a grocery store, that's even better – especially if that grocery store is a popular chain. For example, the home prices across the United States have appreciated by roughly 26% since March 2016. In comparison, homes that share zip codes with a Trader Joe's have seen a home price appreciation of 35% over the past five years, showing that proximity to a popular grocery store chain has added to their value.
Neighborhood parks
Parks have always been a popular, family-friendly attraction that can boost a home's value if they are located close enough (within walking distance). Now, with the pandemic, they are even more popular than before – as people are constantly looking for reasons to get out of the house and do safe, COVID-friendly activities. A Redfin report concluded that homes within walking distances of shops, parks, and schools sold for roughly 24% more than homes in more isolated areas. However, one price setback of a convenient location could be busy nearby traffic or litter.
When it comes down to the most influential factors on a home's price, "it really is location that kind of trumps everything else with how expensive properties are," said Taylor Marr, a lead economist at Redfin. Especially following the effects of COVID-19, many people are searching for more spacious locations for their homes. If you're interested in how much your home has appreciated over the past several years, or how much home you can afford, talk to your REALTOR® or let us know!
Sources: HSH, MarketWatch, Money, USA Today, Zillow