6 Decorating Tips for Homes with Pets
Blog posted On July 14, 2021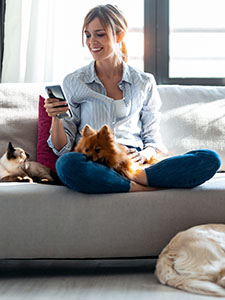 Having the company of furry friends can add significant joy and health benefits to our lives. Many studies have shown that pet owners are less likely to suffer from depression, high blood pressure, and stress. However, owning a pet can also wreak havoc on your home. It might be harder for you to incorporate your pet's belongings into a new home's design, but with these six quick tips, you'll have a model pet palace in no time.
Find multifunctional pet furniture
Pet necessities like cages or beds aren't always the most aesthetic additions to your living space. Though you can't always hide them, you can try to incorporate them with your home decor. "One of our dog-loving clients wanted to transform a mudroom into an attractive place to hold her dog's crate," says Zandy Gammons of the Warehouse Interiors. "We worked in collaboration with the homeowner and a contractor, who built a custom crate that fit perfectly in the entrance and that could double as an organized resting place on top for keys and bags."
Design built-in food drawers
If you have multiple pets, then you likely have multiple food and water bowls. These can get knocked around, moved, or can just stand out in a neat, organized room. One way to better incorporate them in your room is by adding in pull out drawers in a cabinet area. If it's localized in your kitchen or mudroom, it only will take up a cabinet or two – so it won't require a full remodel.
Set up a distinct pet station
A more expensive remodel could be a distinct pet station that covers all (or most) of your pet's needs – bath time, grooming, feeding etc. This way, your pet area is set up in one central space. Consider converting a mudroom or back entryway into a washroom for your pets. "My clients are constantly looking for a place for bath time and pet accessories, and it often ends up being in or near the family mudroom," explains designer Lori Paranjape. "A recent project included a sink for baths and a faucet dedicated to keeping the water bowl filled!"
Use easy-to-clean fabrics wherever possible
Pets are the best, but they undoubtably know how to make a mess. Using easy-to-clean, pet-friendly performance fabrics (such as microfiber or microsuede) is a good way ease the stress of managing pets. "Performance fabrics ensure you won't have to worry about dirty paws or dog messes staining the furniture," says Liles Dunnigan of The Warehouse Interiors.
Create a designated pet drawer
If you can't add built-in bowls in a pull-out drawer, the next best thing might be to just put the bowls in a drawer low to the ground. "When I adopted my [dog], I came up with the idea of carving out a drawer that hides and houses his water and food bowls," says designer Kendall Wilkinson. "The drawer integrates perfectly into the wall between the entry coat closet and kitchen, which makes it easy to access and clean," she explains.
Buy pet beds with washable covers
"Dog beds should always have a removable, washable cover, so they're as comfy as the sofa but stylish enough to leave out," says home décor designer Annie Selke. Pets can track in a lot of allergens with their hair. Plus, if they go outside for playtime or walks, they likely will dirty up their bed over time. Getting a bed that can be easily cleaned is a huge plus.
Just because you live with a four-legged friend doesn't mean it needs to dominate your home's design. For more great tips on making a pet-friendly home, check out our blog.
Sources: Apartment Theory, HelpGuide