5 Things to Consider Before Fleeing the City for the Suburbs
Blog posted On September 10, 2020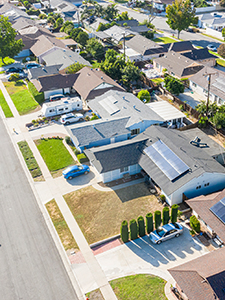 The coronavirus pandemic has many city dwellers considering a suburban migration. With cultural hotspots closed or operating at limited capacity and many companies imposing work-from-home orders and distance-learning procedures, living close to city centers may no longer be as important as it once was.
If you currently live in a more densely populated urban area and you're considering a suburban migration, here are some things you might not have thought about but should consider.
Septic Systems
When you live in a city, you have access to city sewer system. Depending on how far you plan to move, you may end up with a septic system instead. A home that uses a septic system will require maintenance and potentially the expense of replacement, depending on how old it is. If you're buying a home with a septic system, you'll want to know when it was last replaced. Replacement can cost anywhere from $25,000 to $35,000.
Landscaping
If you previously lived in a condominium or a townhouse community, your landscaping may have either been minimal or covered by your homeowner's association. When you move to a single-family home you will likely be responsible for your home's outdoor maintenance or you will need to hire help. When you're building a new home, keep in mind that all the landscaping will be new. The young trees you choose to plant may look great but could grow into a headache if they require extensive maintenance or end up blocking your view.
Well Water
In some cases, your home may come with private well water. You'll want to have the well water tested during your home inspection to make sure it's safe since the Environmental Protection Agency (EPA) doesn't test or regulate private water supplies. Additionally, the Centers for Disease Control (CDC) recommends an annual test.
Zoning and Permitting
Depending on how far out you move, the zoning and permitting rules may differ. When living in the city, you may be used to a certain level of sameness. If you move to a more rural area, you shouldn't be surprised about more built-out backyards or unusual home additions. If you like the idea of augmenting your property as you please, moving out of the city could be a great choice for you. If you're not into surprises, consider buying a home with a homeowner's association that restricts homeowners in its community.
Commute
Your commute may not matter now, but someday you will return to the office, your kids will return to school, and all of the other activities that go with it. Many companies have extended work-from-home policies or plan to be flexible welcoming employees back. You may still want to live within a reasonable commuting distance of your job or the local schools.
Moving out of the city may be the right move for you if you're willing to give up some amenities and strike out on your own. If you prefer certain comforts and proximity, you might be better off staying put. If you have any questions about moving let us know as early as possible.
Sources: Apartment Therapy