3 Reasons Why Now is the Best Time to Buy a Home
Blog posted On October 05, 2021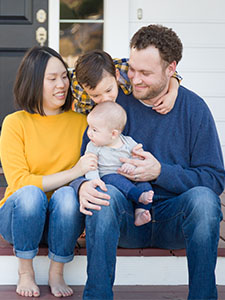 The best week to buy a home is here. According to Realtor.com's Best Time to Buy Report, the week of Oct. 3 – Oct. 9 is the most optimal time of year to buy. The report analyzed data from the Top 50 Largest Metro Areas across the country and determined the best week to purchase a home for each. Though some areas hit their peak in the beginning of the year, most of the markets will hit their "home buying sweet spot" between Sept. 12 and Oct. 17. This time was ranked the best because you'll likely see more homes on the market, less competition, and lower sales prices.
More homes on the market
Buyers who purchase a home during their market's best time of the year will see 31% more active listings than other weeks during the year. This equates to around 166,000 homes. Though the year started off with an extreme home inventory deficit, it has since picked up. In January 2021, the supply of existing homes was near 1 million, compared to nearly 1.5 million six months prior. Over the past 10 months, inventory has been slowly climbing back up – hitting 1.3 million in August. New home inventory has been rising as well. The number of new homes on the market soared to 378,000 – the highest level in 13 years. This represents a 6.1-month supply. Realtor.com predict that 7.2% more active listings will start hitting the market this week.
With more homes on the market, you'll have more options to choose from. Earlier in the pandemic, it was hard for buyers to find a perfect, move-in ready home within their budget. The market was faced with such little inventory that many buyers were opting to build a new home or simply renovate their existing home. Now, you might have more home buying options.
Less home buyer competition
More homes on the market could also indicate fewer bidding wars and buyer competition. In fact, we've already started to see the market trend in this direction. In August, Redfin agents saw the lowest level of buyer competition in 2021. Sixty percent of offers still had opposing bids, but this is much lower than 74% in April. And as Fall gets underway, we should start to see a slight seasonal slowdown in buyer traffic. The typical peak for home buying is during the Summer months, before school has started. Once the school year begins, parents are less likely to move. Home buyers who make moves during their area's "Best Time to Buy" will see almost 20% less buyer traffic than the peak month of July.
With fewer people making offers on the same home, you should have more time to decide on a home. When the market was busiest, many people were making offers on homes without even seeing them first. They were also waiving important contingencies like home inspections. This was all in effort to make the winning offer on a home. But with no one else to 'beat,' you should be able to slow the process down and take the time you need to make sure the house is the right place for you. In June, the national median time on the market for homes was 37 days – down from 56 days in 2020. Throughout this week, homes will last an additional 7 days on the market.
Lower sales prices
Home values have been skyrocketing over the past year and a half. The Case-Shiller home price index has reached record highs for four consecutive months – hitting 19.9% annual appreciation in its most recent report. This brought the median existing home sales price to $356,000 in August. Compared to August 2020, the median existing sales price is up by nearly 15%. Part of the upward pressure on prices has been the low inventory of homes. But with more homes coming to the market, this pressure could ease up slightly.
According to Realtor.com's report, prices could be 2.6% lower than their typical seasonal highs this week. If you were purchasing a median-priced home, this would save you nearly $10,000. The chance for price reductions is also higher this week as well. The Best Time to Buy Report claims that an average 7% of homes will reduce their sales price this week. Plus, mortgage rates are still near historic lows. Though the Federal Reserve has discussed interest rate hikes in the future, the benchmark rate still sits near zero. Once it starts raising the benchmark rate, mortgage rates will follow.
To take advantage of the best time of year to buy, click 'Get Started.' If you would like to compare your mortgage options, visit our mortgage calculator page.
Sources: NAR, PR Newswire, Reuters, Yahoo Finance, Washington Post