3 Questions to Consider Before Refinancing Your Mortgage
Blog posted On November 05, 2020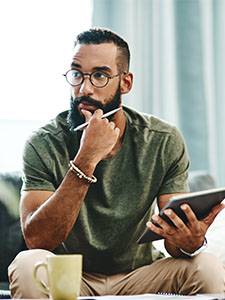 Refinancing your home loan when interest rates are low could save you thousands of dollars on the lifetime cost of the loan. In a mid-year report by Black Knight, financial experts estimated that homeowners could save an aggregated $4.5 billion per month if they refinanced their mortgages. There are many benefits to refinancing your home, but it's not the right choice for everyone. To make sure a refinance is right for you, answer these three questions first.
What are your goals?
What do you hope to gain from refinancing? Lower monthly payments? Less overall interest on your loan? Cash funds for other finances?
If you're looking to reduce your monthly payment, you will likely want to apply for a refinance with the same term as your current loan – a 30-year for 30-year, 15-year for 15-year.
To pay less interest over the life of your loan, you have the option to shorten your mortgage term – for example changing a 30-year mortgage to a 15-year mortgage. Though a shorter term will help save money in the long run, it could mean higher monthly payments. Use the refinance mortgage calculator on our website to estimate your new monthly payments if you change loan terms.
Another common refinancing goal is to get cash out to help fund home renovations or pay off other loans. With a cash-out refinance, you use your home equity to take out a new loan that is higher than your existing mortgage and cash out the difference. This could change your monthly payments or your loan terms, so make sure to compare the new costs.
Are your goals achievable?
If your goal is to reduce monthly mortgage payments, it is important consider how long you will be remaining in your home after refinancing. Though refinancing your mortgage can help you save money long-term, you will be paying hundreds (or even thousands) of dollars on closing costs. Depending on the closing costs, it could take years to actually start saving money with a refinance. Let us know if you would like an estimate for your break-even period.
If you shorten the term of your mortgage in order to pay less interest over the life of your loan, make sure that you will be able to comfortably afford the higher monthly payment. You don't want your mortgage to push the limits of your budget, in case of a financial emergency.
If your goal is to get money through a cash-out refinance, make sure that you have enough equity in your home and you're putting your cash toward high-return investments. Most financial experts recommend having at least 20% home equity before applying for a cash-out refinance. In order to maximize the benefits of a cash-out refinance and avoid putting yourself into further debt, make sure that you are putting the money toward high return investments like paying down other debt, improving your home's value through a remodel, or by not taking a vacation.
How will your goals be affected by the new refinancing fee?
On December 1st, 2020 the FHFA will be imposing a fee on all conventional refinance transactions. This 0.5% fee will cost you more upfront, raising interest rates by around an eighth of a percentage point. This means that it will take longer to reach your breakeven point if your goal is to lower monthly payments. However, if your goal is to pay less interest over the life of your loan, you are still going to save a substantial amount of money when the fee is imposed. The fee will have little effect on your goal of getting cash-out from a refinance, as it doesn't affect your equity.
Many homeowners have been eager to take advantage of the recent mortgage rates and refinance their homes. Assessing your financial goals will help you determine the best way to refinance your home. If you're still having trouble deciding, remember – you don't have to do it alone! We're ready to answer all of your home financing questions and help you make the best decisions possible.
Sources: BlackKnight, MarketWatch