Market Recap: Home Prices Increase, Mortgage Apps Mixed, Pending Home Sales Decline
Blog posted On January 01, 2021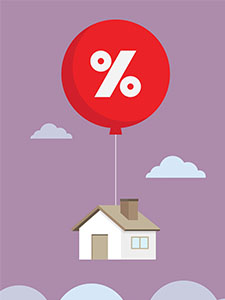 This week, mortgage rates continued to trend near historic lows. Home prices surged to a six-year high according to the S&P CoreLogic Case-Shiller Index. Mortgage apps remained mixed. Pending home sales declined for the third consecutive month.
The S&P CoreLogic Case-Shiller Home Index revealed that home prices rose at the fastest rate in six years – rising 7.9% from last year and 1.3% month-over-month. The largest annual gains took place in Phoenix, Seattle, and San Diego and the smallest gains occurred in New York, Chicago, and Las Vegas. Detroit was excluded from the analysis once again due to a lack of data. "The data from the last several months are consistent with the view that COVID has encouraged potential buyers to move from urban apartments to suburban homes," said Craig J. Lazzara, global head of index investment strategy at S&P Dow Jones Indices.
Mortgage application submissions saw a composite increase of 0.8% for the week ending 12/18. Refinance application submissions increased 4% from the week before and are up 124% year-over-year. Purchase submissions decreased 5% but are still up 26% year-over-year. "There are still signs of relative strength in the housing market as 2020 ends," said Joel Kan, associate vice president of economic and industry forecasting at the MBA. The MBA has yet to release data for the week ending 12/25, but it is scheduled to come out next week along with the data for the week ending 1/1.
Pending home sales declined for the third straight month in November, falling 2.6% from the month before. However, they are still up 16.4% year-over-year. "The latest monthly decline is largely due to the shortage of inventory and fast-rising home prices," said Lawrence Yun, NAR's chief economist. "It is important to keep in mind that the current sales and prices are far stronger than a year ago."
This winter, home sales are expected to remain strong. Mortgage rates continue to touch historic lows, and many home buyers are still leaving the cities in hopes of finding homes in more suburban areas. With a continued high demand for homes, it's important to be prepared when putting in an offer on a house. To get started on your mortgage prequalification, head to our website today!
Sources: MarketWatch, MarketWatch, MBA, Mortgage News Daily, Yahoo! Finance