8 Home Features That Make a Lasting First Impression
Blog posted On January 27, 2021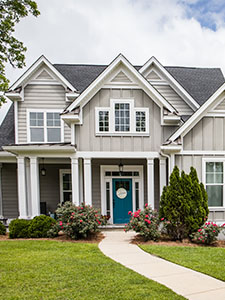 You never get a second chance to make a first impression. But when it comes to the home you love; you'll oftentimes make any excuse for why it deserves another. Though you may want to overlook some features in a home and make an offer as soon as possible, you might want to take a closer look at these eight home features before making such a large investment.
Floors
The condition of the flooring in the house is a good indicator of the overall condition of the home, according to Jennifer Okhovat, Compass REALTOR® in Los Angeles, California. Depending on the condition of the floors, you can generally gauge how well the previous owner has taken care of the rest of the house.
Baseboards and molding
For real estate agent JW Roeder from Kansas City, Missouri, the baseboards, window trim, and crown molding stand out the most. Not only can these features give you insight on the home's condition, but they can also give you an idea about the home's quality of materials and build. "If the fit and finish of the trim is tight and the quality of the materials and the workmanship appear high, you have a good indication that the home is well-constructed," says Roeder.
Floor plan
Flow and structure are important in modern homes. Though additions and renovations can be made once a home is purchased, the basic floor plan and structure would be hard to change without a complete tear down and reconstruction. A home's location and view are great qualities, but if its basic functionality isn't up to par, then renovations could be costly post-closing, making the overall home price much higher than it is upon purchase.
Odor
When it comes to buying or selling a house, odor can be an obstacle. REALTOR® Christopher Totaro of Warburg Realty says, "everyone's space has its unique scent, and it can be a positive or a negative one. A space with a neutral scent is ideal because buyers are imagining themselves living in a space."
Curb appeal
People often notice a home's curb appeal first. The term 'curb appeal' is used to describe the exterior attractiveness of a home and the impression that it gives people when viewed from the street. Some features that real estate agents look for are pressure-washed sidings, cleaned gutters, trimmed bushes, neat gardens, proper lawn care, and freshly painted front doors.
Lighting
"Natural light and lighting choices make a big difference," says Jeremiah Wiggins of Bohemia Realty Group. "[They] can be the difference of whether a home sells quickly or not. If you don't [see] a lot of natural light, take heart and never underestimate the value of creative and dramatic lighting choices." Some ways to improve lighting can be installing skylights, adding light fixtures to the room, or making sure windows are always clean and shades are open.
Water damage
Though water damage will typically be pointed out in your home inspection, you should still try to look for any water damage signs yourself. And don't just look in the basement or on the floors – leaking can occur through the roof too, so be sure to check for any brown spots or water stains on the ceiling. Another good way to spot signs of previous water damage is checking for mold and mildew – which is common in bathrooms.
"Wow" factors
Though the "wow" factors shouldn't be the only feature you look for when buying a house, they certainly can't hurt to see. "If there's a striking entryway with a massive chandelier, a super beautiful interior, a striking painting, or views that span the city, we notice," says Chantay Bridges, a Los Angeles based REALTOR®.
Buying a home is an exciting moment. Though it is good to be excited about a home, it is also smart to take your time when making such a large investment to make sure It is the right choice for you. If you are interested in buying a fixer-upper, ask us about our renovation loans – they can be a great financial advantage and open up your options.
Sources: Apartment Therapy