Waiting to Buy vs. Buying Now
Blog posted On August 11, 2020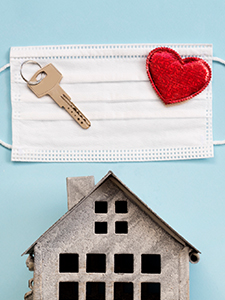 Historically low mortgage rates have motivated many home buyers across the country, but some are still wary about buying a home due to the economic uncertainty brought on by the coronavirus pandemic. Although the way we buy and sell homes looks different, the housing market has had an exceptionally busy summer. Real estate agents are practicing social distancing by offering video tours and virtual listings and much of the mortgage process has gone digital. If you're on the fence about buying a new home now or waiting a few months, here are some things to consider before making your decision.
What's going on in your market?
Nationally, the housing market looks busy, but what's happening in your local market may vary. In a normal year, home prices trend upward from January to June, climbing an average 9%, but then trend downward into the end of the year. Because of this year's delayed busy season, some regions may experience an extended period of home price appreciation. Talk to a local Realtor or real estate agent to find out what's been going on in your market and what waiting to buy could mean for home prices.
Have you looked into mortgages?
You may not know this, but it's a good idea to get preapproved for mortgage financing before you start shopping for a home. Starting the mortgage application early gives you an idea of how much home you can afford and will help you set a budget. Because of the pandemic and social distancing guidelines, some home sellers are requiring prospective buyers to show they are preapproved before touring their homes to limit foot traffic.
Are you prepared to be flexible?
Mortgage rates are historically low right now, but you can't predict where rates will go in the next year. If you are leaning toward waiting to buy, you need to be prepared to be flexible. Your mortgage preapproval letter is typically good for anywhere from 60 to 90 days and can be extended as long as none of your financial information changes. If you get preapproved now and wait more than 90 days to buy, your mortgage interest rate could fluctuate.
Are you on a timeline?
When you're thinking about a move, usually you're on a timeline. Maybe your lease is expiring in the next few months, maybe you're selling and have a buyer interested, or maybe you're relocating for work or family obligations. If you're not on a timeline and you want to wait, you have no pressure to buy now. However, if you're working with a deadline, you may want to act now. Competitive markets could mean you have to make several offers before you get one accepted.
If you're on the fence about buying now or waiting to see how the market changes, talk with a loan officer and real estate agent as early as possible. We do our research so you don't have to and would be happy to share our insight on our market's latest trends.
Sources: MarketWatch