Think You're Saving Money on that Fixer-Upper? Think Again!
Blog posted On September 11, 2019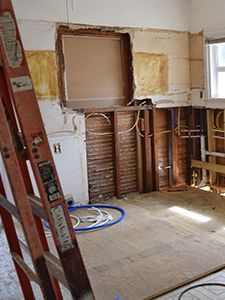 Many home buyers choose to buy a fixer-upper for financial reasons. They often expect the cost of the home combined with the cost of the needed improvements will still be less than buying a comparable move-in ready home. A recent survey of 1,069 homeowners from Porch.com, found that although buyers who bought a fixer-upper spent on average $50,000 less than their counterparts who bought move-in ready homes. But they tended to spend that difference, or more, on renovations and repairs to make their home livable.
The biggest risk fixer-upper buyers face is running over budget. From the survey, more than 40% of buyers had to exceed their budget to complete their project. On average, they spent about $76,000 on renovations and repairs. Of those who went over budget, almost half said they wouldn't buy their current home again if they had the choice. Among the survey respondents, there wasn't one specific budget-buster. Homeowners reported everything from roof repair to plumbing to HVAC needs to flooring as the reasons they had to exceed their budget.
You can avoid common fixer-upper pitfalls by financing your purchase the right way in the first place. If you are going to rely on your savings or credit cards for your renovation project, you are running the risk of eating up your savings or taking on too much high interest debt. If the home is livable, but you want to renovate or upgrade it, you may benefit from waiting, building up equity in the home, and then using a cash-out refinance to fund your project. A cash-out refinance is a new loan origination and with that will come closing costs. Most real estate professionals also recommend building up at least 20% equity in the home before cashing out, so that you have a cushion. There are also types of mortgage loans designed specifically for renovation projects. Talk to your lender about renovation financing and see if that's the best way to pay for your renovation project.
There are other reasons to buy a fixer-upper besides financial ones. When you're willing to put in the work on a home, and spend the money to do so, you will get exactly what you want. However, you should compare the costs of renovating a home versus building a new home to make sure this strategy makes financial sense. In other cases, you may be looking for a home in a specific area and the only ones available are fixer-uppers. A Realtor or real estate agent will have early access to listings and may know if a past client is planning to list before the listing is public, so be sure to check before settling on a fixer-upper.
Buying a fixer-upper can be risky or rewarding, it really depends on your needs and how you're going to finance your purchase. Let me know if you have any questions.
Sources: MarketWatch