Market Recap: New Home Sales Down, Home Prices Appreciate, Pending Home Sales Fall
Blog posted On October 30, 2020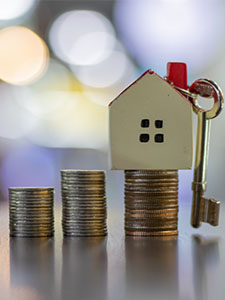 Mortgage rates trended downward this week and continued to touch historic lows. New home sales and pending home sales dropped for the first time in four months, while home prices saw the biggest gain in more than two years.
New home sales fell 3.5% month-over-month in September, hitting a seasonally adjusted rate of 959,000. The decline in sales was unexpected by economists at Reuters, who had predicted a month-over-month gain of 2.8%. Most likely, this decline suggests that the housing market is finally starting to stabilize after record-breaking sale surges over the past several months. Though new sales trended downward in September, they are still up 32.1% year-over-year. As the coronavirus pandemic continues, home buyers are fleeing the cities in search of low-density areas with more space.
In August, the S&P CoreLogic Case-Shiller Home Price Index exceeded expectations, rising 5.7% annually. Detroit was not including in the August report due to insufficient data reporting related to COVID-19. Among the remaining 19 cities, Phoenix had the highest annual gains in August, with a 9.9% increase. The city with the second most annual gains in home prices was Seattle, up 8.5%, followed by San Diego, up 7.6%. "The last time that the National Composite matched August's 5.7% growth rate was 25 months ago, in July 2018. If future reports continue in this vein, we may soon be able to conclude that the [coronavirus]-related deceleration is behind us," said Craig Lazzara, managing director and global head of Index Investment Strategy at S&P Dow Jones Indices.
Pending home sales dropped 2.2% from August to September, marking the first monthly decline in four months. Annually, however, pending sales were up 20.5%. The Northeast was the only geographic location that had a monthly increase in pending sales – likely due to the large number of people fleeing northeastern cities to more spacious suburban homes. As the prices of homes continues to rise, the number of people able to afford them has decreased. However, with home inventory picking up, prices will likely level out soon.
Though inventory might be low and prices high, saving thousands of dollars on your mortgage is still an achievable goal. With interest rates continuing to drop, now is the perfect time to refinance your mortgage before the added refinance fee kicks in on December 1st, 2020. Contact us today for more information on the refinance fee or any other home loan help.
Sources: CNBC, CNBC, MarketWatch, Mortgage News Daily, Reuters