Election Day 2020: How the Housing Market Could Influence the Polls
Blog posted On November 03, 2020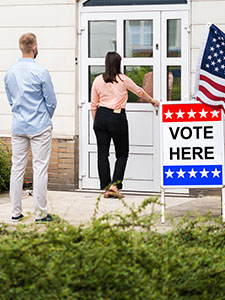 It's Election Day and if you haven't already voted early or voted by mail, today is the day to head to the polls. Last month, we examined how the presidential election could impact the future of the housing market. This week, we're turning the tables – examining how the housing market could impact the election. Political experts typically analyze social, political, and economic factors in order to predict the question on everyone's mind: who will be the next president of the United States?
A strong economy generally helps an incumbent president at the polls, while a weak economy can hurt them. Last month, the National Association of Realtors (NAR) reported that the homeownership rate reached 67.9% – the highest level in nearly 12 years – during the second quarter of 2020. The high ownership rate, helped by the historically low mortgage rates, serves as a "bright spot" in current President Donald Trump's economic recovery from the coronavirus pandemic.
Homeownership isn't the only part of the housing market that could influence Trump's reelection. The high demand for homes has caused a housing deficit – which is an ideal market for home builders. A deficit in homes means a demand for builders. In September, the National Association of Home Builders (NAHB) market sentiment index jumped to an all-time high of 83. Home builders are hopeful about the future demand for construction projects, and the demand for construction increases, the demand for skilled workers increases as well.
An uptick in construction activity could lead to a better turnout for Trump in the polls, as many trade workers, including construction workers, were instrumental in Trumps' 2016 election – specifically in Pennsylvania, Michigan, and Wisconsin.
While the demand for homes could likely work in Trump's favor, the unequal home buying opportunities could help draw votes for Biden. Though homeownership rates are high, they are not very diverse. Due to the lack of home inventory, the median existing home price rose to $310,600 in July – which is up 11.4% from last year's median. This high median is especially challenging for first-time and low-income home buyers.
In his proposed housing plan, Biden outlined solutions to help increase homeownership opportunities significantly. Some highlights off that plan include financial assistance on down payments, increased the housing supply, and decreased home prices. In addition to the tax credit of up to $15,000 on a first-time home buyer's down payment, Biden is proposing a tax credit that would ensure qualifying renters pay a maximum of 30% of their income on housing and utilities. Both of these credits could help make homeownership more affordable for a more diverse market of people.
Biden also has plans to address the racial housing gap by increasing homeownership opportunities for communities of color. By establishing a national standard for home appraisals, properties in communities of color will be assessed equally as similar homes in white neighborhoods. Trump, on the other hand, has rolled back regulations that were aimed at combating discriminatory housing practices passed by President Barack Obama's administration.
Therefore, like Trump, Biden may also have strong turnout of voters impacted by the housing market boom—particularly those who have been affected by the high sales prices and inequal home buying opportunities.
Each candidate will have a significantly different effect on the housing market, the economy as a whole, and you. If you're interested in the future president and their proposed policies on housing and other aspects of our country – vote!
Sources: MarketWatch, MarketWatch, Reuters.com