Read This Before You Refinance Your Student Loans
Blog posted On April 22, 2020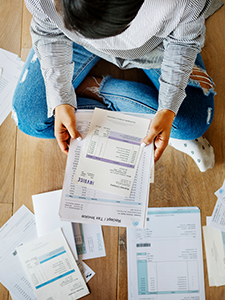 Following the recent rate cuts, you may be bombarded with messaging to refinance everything from credit card debt to student loans. When you refinance your credit card debt you typically take out a personal loan to pay off the credit card debt. You still have to pay back the personal loan, but it will typically be at a much lower interest rate than the credit card issuers use. Choosing whether or not to refinance your student loans is not always a simple answer.
When you take out student loans to go to college you will either choose federally issued loans or loans issued by a private lender. Whether or not you could benefit from a loan refinance, may depend on the type of loans you have.
Federal Student Loans
About 90% of the nation's outstanding student loan balance is comprised of Federal Student Loans. When you take out federal student loans, you get access to repayment options you usually don't get through private student loans. You may have an income-driven payment plan based on what you owe and what you earn. In some circumstances, you could also get the loans forgiven. For example, if you work for the public sector for a decade or you repay your loans through an income-driven plan for at least two decades, you can qualify to have your loans forgiven.
When you refinance your federal student loans, you will lose many of these advantages. If you can comfortably afford your payments, it may be in your best interest to not refinance and lose the federal protections.
Private Student Loans
If you have private student loans, it may be worth it to refinance. Even if you refinanced a few years ago, your credit score may have improved, your debt-to-income ratio may be lower, and you could qualify for a lower interest rate.
Like refinancing your credit card debt, you can refinance your private student loans with a lower interest personal loan. You can inquire with a bank or direct lender, or other loan consolidation service to find out if you could qualify for a lower interest rate.
If you have private student loans and could lower your monthly payment, it may be in your best interest to at least get a quote. A lower interest rate and lower monthly loan payment could increase your disposable income and lower the lifetime cost of the loan. If you have federal student loans and can comfortable afford the payment, it may not be worth losing your federal protections to refinance the loans. Federal repayment options could help you if you lose your job or experience another financial hardship.
Like any type of refinance, refinancing your student loans is a new loan origination, and you should talk with a financial advisor or lending professional before you make any decisions.
Sources: Money.com