How to Support Your Neighbors from a Safe Distance
Blog posted On June 03, 2020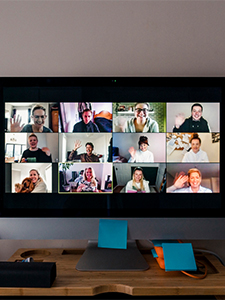 Shelter-in-place guidelines and stay-at-home orders may mean you are spending more time at home than ever before. A positive outcome of more time at home has been more people are getting to know their neighbors, from a safe distance. Neighbors are using online platforms like Nextdoor, Facebook, and Slack to offer assistance to neighbors who have been impacted by the coronavirus pandemic. Volunteers can offer to complete grocery runs for sick or elderly neighbors, find ways to contribute to food banks and other community organizations, or simply connect through virtual community events.
If you're looking for ways to support your neighbors from a safe distance, check out these resources:
Nextdoor
Nextdoor is a community-based social networking service available as a mobile app or through your web browser. Neighbors can sign up by entering their address or entering an "invite code" if they receive a postcard invite in the mail. Nextdoor uses your address to connect you with your local community. You can then opt in to view news from just your neighborhood or extend to nearby neighborhoods or your entire city.
To connect neighbors in need to volunteers during the pandemic, Nextdoor launched a help map feature. Neighbors who want to provide help can choose tasks they are willing to provide like checking in on elderly or at-risk neighbors over the phone or through Nextdoor, or completing grocery runs for anyone who is unable to get to the store. Nextdoor users can also share any local events like food drives, opportunities to give blood, or other ways to help.
Facebook
In 2016, Facebook launched Community Help as a way for users impacted by a natural disaster to connect with needed resources. Because of the widespread global impact of the pandemic, all users have access to Community Help.
Through the Community Help page, users can share resources to give back, ask for help, or connect with others. You can adjust the radius to include 5, 10, 25, and 50 miles from your location. Facebook also has a fundraising feature where users can set up fundraisers for local nonprofits and users can donate directly through Facebook.
Slack
Slack is a direct-messaging platform primarily used for business communications, but some neighbors are using Slack workspaces to stay connected and share information online. You can set up a Slack workplace for free and then create channels for communicating different needs. For example, one channel can be used to share volunteer opportunities, one channel can be used to share medical resources, and one channel can even be used for virtual events like an online book club. Slack also allows for users to direct message each other. If a homebound neighbor needs assistance with grocery or pharmacy runs, they can connect with a volunteer through a channel and then direct message to discuss specifics.
Leading up the pandemic, American neighborhood dynamics had changed. A CityLab article revealed only 20% of Americans visited with the people living next door to them and a third of survey respondents reported never interacting with their neighbors. While it is too soon to throw a block party, or any gathering of 10 people or more, getting to know your neighbors virtually could be a step toward building a stronger community.