Everything You Need to Know About the New Refinance Fee
Blog posted On November 24, 2020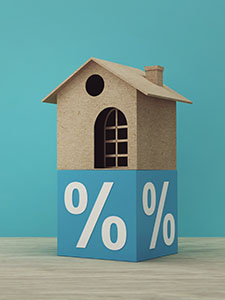 In one week, the Federal Housing Finance Agency (FHFA) will begin imposing a new fee on all refinance transactions. Initially scheduled for September 1st, 2020, the Adverse Market Refinance Fee will add a 0.5% charge to all refinance loans starting on December 1st, 2020. The purpose of the fee is to protect mortgage backers Fannie Mae and Freddie Mac from predicted coronavirus-related losses.
In a press release this summer, the FHFA projected that the economic effects of the coronavirus would cause at least $6 billion in losses for Fannie Mae and Freddie Mac. To protect the two government-sponsored enterprises (GSE), the FHFA is requiring an "adverse market" fee. As a result, refinance loans will face an extra 0.5% charge. For example, if you refinance a $300,000 mortgage, the 0.5% fee would mean you pay an extra $1,500. However, refinance loans for less than $125,000 are exempt from the added fee.
The predicted losses are expected to result from loans in forbearance, which is an agreement between the lender and borrower that allows borrowers to reduce, or sometimes suspend, mortgage payments for a certain period of time. In March, forbearance requests increased 1,896% as the economy struggled with the early stages of the coronavirus pandemic. To qualify for forbearance, you typically have to prove that you have lost your job, you have suffered a reduction in pay, or you are sick and unable to work. An alternate choice to forbearance is refinancing, where you often have the option for a one to two-month break in payments. However, now that refinances will face a fee, some borrowers may opt for forbearance.
Expected to take the form of raised interest rates, the fee could add an extra 0.125 to 0.25 percentage points to your refinanced mortgage. New purchase mortgages, however, will not be charged. Refinances are generally riskier for lenders than purchases because there is no market value associated with refinances – only an appraisal. "If it's a purchase transaction, there's a market price — you know the price because buyers are willing to pay it, so it's a more accurate picture of the market," said Joel Kan, associate vice president of economic and industry forecasting for the Mortgage Bankers Association (MBA).
Despite the new fee, homeowners should not be deterred from refinancing, according to Kan. "These are the lowest rates we've seen in a long time," Kan said. "If there would be a benefit from refinancing, that should be the primary factor influencing your decision."
Benefits from refinancing your mortgage include lowering your interest rate, reducing your monthly payments, switching your mortgage type (adjustable rate to fixed rate), ending costly mortgage insurance, and using cash out refinances to fund renovations, mortgages, or other investments. According to analytics company, Black Knight, qualifying borrowers could still save $500 per month when they refinance their mortgage.
You can still save thousands of dollars on your mortgage even with the new refinance fee. To get started on the refinance process, review your credit report, prepare your home for appraisal, and talk to us about your projected rates. This way, you can determine how much you will save, and if it exceeds the cost of fees and closing costs.
Sources: Black Knight, CNBC, FHFA, MarketWatch