Weekend Home Improvement Projects
Blog posted On March 12, 2020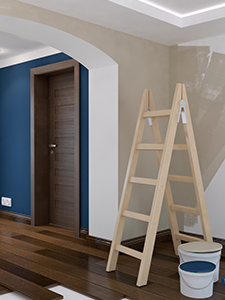 There are many reasons that homeowners start home improvement projects. Maybe you are looking to sell your home soon, increase your return on investment when you do sell, or just want to spruce up your living space. Many homeowners put off their home improvement projects because they're worried about how long it's going to take or how much it's going to cost. While major remodels may be expensive or take a long time, some high-value projects can be completed over the weekend!
These seven home improvement projects can add value to your home and can be completed in just a few days.
Garage door replacement
Maybe your garage door has a couple of dings in it or maybe it's just a bit outdated. A new garage door may not seem like a significant change, but Remodeling's 2020 Cost vs. Value Report shows that replacing your garage door can add nearly $3,500 in resale value to your home, and the average homeowner recoups roughly 95% of its cost.
Deck or patio addition
While this project may seem like a demanding effort, one weekend is more than enough time to add a porch, patio, or even small deck to your property. In fact, a wooden deck can add nearly $15,000 in resale value to your home, and homeowners recoup an average of 72.1% of the cost of installation.
Repainting
Something as simple as a fresh coat of paint can instantly add value and charm to your home. If you're repainting your home to sell, stick to whites and neutrals—this offers a clean palette to help buyers see themselves in the home.
Steam clean the carpets
A thorough deep cleaning can have the same impact as a flooring replacement, but at a much lower cost. Simply having your carpets steam cleaned—or doing it yourself—will have a strong effect on your home. You'd be shocked at the amount of dirt that comes out of the carpet, especially if you have children or pets.
Update your cabinets
Revamp your kitchen with a cabinet remodel. Cabinets are often the most noticeable part of your kitchen, so if your cabinets look outdated, so does your kitchen. A total replacement is not necessary to give your kitchen a fresher look. A new coat of paint and new knobs can get the job done quickly and at a low price.
Restore your front door
The front door is one of the first impressions that visitors and prospective buyers will get of your home. Upgrading your front door is a quick project that can lead to a significant increase in value. In fact, changing out your old front door for a steel door can add $1,300 in resale value, netting on average a 69% return on your investment. Other quick remodeling options include painting your door or installing a new kickplate.
Power wash the exterior
A popular alternative to painting your home is to power wash it instead. Whether you have brick siding or a light-colored exterior, power washing your house can have an astounding effect. After a thorough power wash, your home's exterior will look good as new!
A home improvement project doesn't need to be a full remodel to add value to your home, and your projects don't need to break the bank or fill up your schedule. Just a few hours of work this weekend can go a long way. Just make sure to research your projects beforehand and complete your work carefully.
Source: The Motley Fool, Remodeling