Market Recap: Existing Home Sales Fall, Mortgage Apps Mixed, New Home Sales Slump
Blog posted On April 24, 2020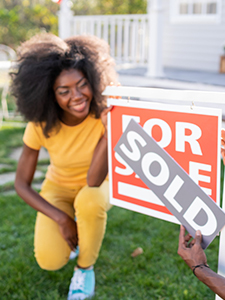 Mortgage rates have not moved drastically this week and are still historically low. Existing home sales declined, as some markets adjust to social distancing guidelines and shelter-in-place ordinances due to the coronavirus pandemic. New purchase mortgage application submissions are up, but refinance application submissions are down.
Existing home sales or resales declined 8.5% from February to March, down to a seasonally adjusted annual pace of 5.27 million. The decline was most likely due to the coronavirus pandemic, as buyers and sellers adjust or pause their home searches. National Association of Realtors (NAR) chief economist, Lawrence Yun, predicted, "more temporary interruptions to home sales should be expected in the next couple of months, though home prices will still likely rise."
The weekly mortgage application survey was virtually unchanged for the week ending 4/17, declining a composite -0.3%. New purchase application submissions increased 2.0% and refinance application submissions decreased 1.0%. The pandemic has impacted the way buyers shop for homes, with a preference for virtual home tours and video walk-throughs with Realtors and real estate agents.
New home sales, or the sales of newly constructed homes, declined 15.4% from February to March, down to a seasonally adjusted annual rate of 627,000 units. The drop was expected due to the global economic slowdown brought on by the coronavirus pandemic.
Although home sales have slowed down, mortgage banks and lenders are still open. As an essential business, we are fully operational and ready to serve our community for all new purchase or refinance needs. If you have any questions about making a new home purchase or how a refinance could help you lower your monthly mortgage payment, let me know.
Sources: CNBC, CNBC, Econoday, MarketWatch, MarketWatch, Mortgage News Daily