Market Forecast: Pending Home Sales, Construction Spending, and Mortgage Apps
Blog posted On November 30, 2020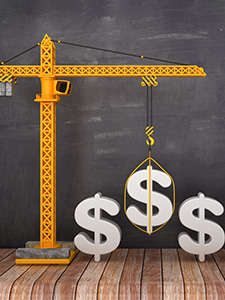 Mortgage rates remained relatively unchanged last week and are hovering near-historic lows. This week, the pending home sales report will be released on Monday. The US construction spending report will be released on Tuesday. On Wednesday, the weekly mortgage application survey will be released by the Mortgage Bankers Association (MBA).
The pending home sales index tracks changes in the number of homes that are under contract but not yet closed. Month-over-month, pending sales dropped 2.2% in September, marking the first drop in four months. Annually, however, pending sales were up 20.5%. The number of people fleeing cities in the Northeast made it the only region that had a monthly increase in pending sales in September. The drop in pending sales may reflect a seasonal slowdown that is common during the fall months.
The U.S. construction spending report tracks total spending on private and public construction projects. In September, construction spending rose at a seasonally adjusted rate of $1.41 trillion, with the majority of costs resulting from residential projects. Month-over-month, residential spending rose 2.7%, leading to an overall gain of 0.3% in construction spending. New construction projects are on the rise to help bring more homes into the low inventory market and meet the high demand from buyers.
The MBA weekly mortgage application survey tracks week to week changes in the submission of new purchase and refinance mortgage applications. For the week ending 11/20, the number of mortgage application submissions increased for both purchases and refinances, leading to a composite increase of 3.9%. Record-low mortgage rates drove new purchase application submissions up at a seasonally adjusted rate of 4%. Refinance submissions rose at a seasonally adjusted rate of 5% week-over-week and 79% year-over-year. "The ongoing refinance wave has continued into November, and both the refinance index and the share of refinance applications were at their highest levels since April," said Joel Kan, the MBA's associate vice president of industry and economic forecasting.
Despite the rise in coronavirus cases, purchase and refinance activity stayed strong. With much of the mortgage transaction gone virtual, buyers and homeowners are able to start mortgage applications at a safe distance. Many economists expect home buyer demand and home prices to continue to remain high, especially if pending vaccines become effective and widely available. If you would like to take advantage of the record-low rates or learn more about refinance and purchase opportunities, let us know!
Sources: CNBC, HousingWire, MarketWatch, MarketWatch, Mortgage News Daily