5 Mortgage Terms Every First-Time Home Buyer Should Know
Blog posted On April 29, 2021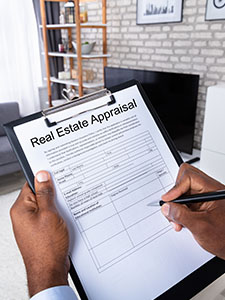 There are several different steps of the home buying process that you might not have seen on Million Dollar Listing. It might feel overwhelming at times, but professionals like a REALTOR® and loan officer can help guide you through the process. According to the National Association of REALTORS® (NAR), 91% of buyers aged 22 to 30 cited a real estate agent as a main source of information when buying a home. Among that 91%, a large majority of first-time buyers had similar questions about these five mortgage terms.
Preapproval
Preapproval is one of the first steps in the home buying process. You'll probably want to get prequalified and preapproved before you start looking for a home. Not only will this narrow down and simplify your home search, but it will also help you make a stronger offer when you find the house you love. To get preapproved, you will want to apply with your lender. They will need to assess many documents including your credit history, proof of income, employment history, bank statements, and any assets that you have. Once they evaluate your information, they will be able to provide a better idea of how much you could borrow, what interest rates you might qualify for, and which loans would be your best options. This can help you focus your home search on properties within your loan limits and give you a letter of preapproval – which shows sellers that you are serious about buying their home and have the financial means to do so.
Pending
When a home is on the market, there are several buyers who can make offers to the home seller. Once the seller receives an offer that they like, they will accept it and move forward with only that buyer. This is when the home is under contract or pending. When a home is under contract, it has not yet been sold but is on the way to closing. If you see a home that is pending, you won't be able to make an offer on it and it will likely be sold. There's a small chance that it could return to 'active' status – where it is back on the market and open to offers again. If your heart is set on a home that's pending, you could talk to your real estate agent about making a back-up contract on the property. This way, you will be prepared if the home's current contract falls through.
Escrow
The term 'escrow' can be used in a few different ways. Typically, it can refer to a process/time period, deposit, or account. The escrow process starts when the seller has accepted your offer and you both have signed a purchase agreement. Then you will make an escrow deposit, which will compensate the seller if the purchase agreement falls through. Once the house closes, this money can be used to help fund your closing costs. The escrow deposit is held in an account at a third-party company until closing. Oftentimes, escrow accounts are used even after closing in order to help you pay property taxes, insurance premiums, and other homeownership costs.
Appraisal
One of the first steps in the closing process is ordering an appraisal. An appraisal is typically ordered by lender to determine a property's true market value – which might differ from its sales price. With the help of an appraisal, you and your lender can ensure the home's contract price is fair. To determine a home's true value, an appraiser will assess the home's condition, amenities, location, acreage, and other relevant features. If a home is appraised at a lower value than its contract price, you can delay the home purchase to try and negotiate a better price or even cancel the sale altogether. Typically, cancelling a sale once it's under contract would cost you; but if it is due to a condition like an appraisal, you can normally walk away without any charge.
Down Payment
Depending on where you are in the home buying process, you may or may not be familiar with down payments. When you buy a house, you will be required to make an upfront payment on the home upon closing (unless you use a VA Loan or USDA Loan). This money will be put towards your home equity. For example, if you put $60,000 down on a $300,000 home, you would already own 20% of the home. Depending on the type of mortgage you have, you can put as little as 3% down on your home. There are several low-down payment options, but know that if you put less than 20% down on your home, you will be required to pay mortgage insurance. One way to help save for your down payment quicker is HomeFundIt® – a down payment gifting platform that helps more people contribute to your goal more easily.
Buying your first home can be overwhelming, but we're here to help! Let us know if you have any questions about any of the steps in the mortgage process or if you're looking for a REALTOR® in your area.
Sources: Pure Wow