5 Mistakes to Avoid When Buying a New Construction
Blog posted On March 11, 2020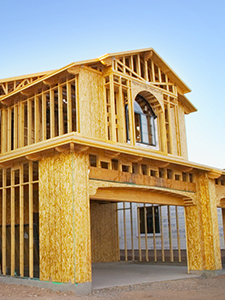 A new-construction home may be a great opportunity to build a custom house that caters to all of your needs. When you purchase a new construction, you have the chance to design the home of your dreams without uprooting and renovating the existing features. However, there are some serious choices to consider when making arrangements for your new home.
Beware of these common mistakes when buying a new construction.
Investing in upgrades that won't increase your property value
When you have the opportunity to design your home, you may be tempted to opt for every possible upgrade. In the end, it is your home to arrange as you'd like, but some upgrades add some serious costs and you may not see a return on the investment when it's time to sell.
If you're hoping to get a return on your investment, make sure you opt for features that are popular in your area and focus on high-profile areas of your home, like your kitchen.
Not understanding the cost of upgrades
There will likely be a stark cost difference between the "builder-grade" items included and the upgrades you choose. In the world of construction, "builder-grade" usually means "minimally acceptable." While these appliances will likely work just fine, they won't be the top-of-the-line devices or necessarily energy efficient.
You may decide to upgrade to higher quality appliances and fixtures, but make sure you know how much money you should expect to spend—it may be more than you think. Make sure you ask questions about the cost of upgrades so that you can budget accordingly.
Not researching your builder
Keep in mind that builders are human, but some of these professionals are more skilled than others. It is imperative that you vet your builder before signing a contract. Examine your builder's finances and request references. If possible, be sure to check out other homes that your builder has constructed so you know what to expect. Read online reviews, ask for references, and consult with your Realtor or mortgage lender. Other real estate professionals may be able to refer you.
Not carefully reviewing your contract
Be sure to review your contract so you understand what costs you are responsible for and what your builder will provide. When you purchase a new construction, your finished home may not be move-in ready!
It's likely that your builder is not responsible for fixtures such as the towel rods in your bathroom or the knobs and handles for your cabinetry. Make sure to carefully examine your contract and ask questions when necessary.
Additionally, beware of any clauses in your contract to avoid unexpected costs. Commonly, builders put provisions in their contract that allow them to charge the buyers for unexpected costs during construction.
Not being flexible with your move-in date
When you buy a new construction, there is a high chance that your move-in date will change. Issues with weather, permits, and inspections can delay completion. Keep these possible changes in mind and be as flexible as possible. If you are currently renting, ask your landlord about extending your lease. If you're selling your current home to buy your new construction, keep the possibility of a delayed move-in date in mind as you negotiate with your buyers.
Purchasing a new-construction home is an opportunity to buy your dream home without having to settle. You can pick what features you like and avoid the need to renovate an existing house. However, it is critical that you don't overlook details that could cost you money. Be sure to consider cost and your return on investment when choosing upgrades, carefully research your builder, review the terms of your contract, and expect move-in delays. If you have any questions about buying a new-construction home or financing your home, let us know.
Source: Million Acres