Warning: 7 Outdated Home Décor Trends According to Real Estate Experts
Blog posted On October 31, 2019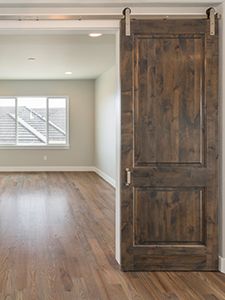 When you're selling your home, you want potential buyers to be able to picture themselves living there. Staging your home is an important part of that and so is avoiding or changing outdated décor trends. Apartment Therapy interviewed real estate agents, brokers, and Realtors from around the country to define these top trends to avoid.
Barn Doors
This country accent may make sense at a restaurant or wedding venue, but does it really fit into your home? Not only are barn doors overdone, they tend to block doorways and make your home appear smaller and more difficult to navigate.
Too Much Gray
The days of all-gray may also be over. While gray was once interchangeable as a "neutral," it may be better to opt for an actual neutral tone – or better yet a splash of color!
Open-Concept Kitchens
Open kitchens look nice, but depending on the size of the home, they may not be practical. Your flavorful dinner may smell good in the kitchen, but not so aromatic elsewhere in the home.
Media Rooms
As technology grows slimmer and more inclusive, media rooms have grown more outdated. Big speakers and bulky screens aren't as attractive as hidden surround sound and smart home features.
Brass Kitchen Fixtures
Although rose gold and brass are recently popular, the trend likely won't last. When it comes to the kitchen sink, opt for something more timeless like brushed nickel or stainless steel. An outdated kitchen can seriously hurt your home's value, even if it's inexpensive to upgrade.
Wine Cellars
The allure of the wine cellar varies from market to market, but most home buyers are losing interest in luxury wine cellars. Wine refrigerators and wine walls may better alternatives.
All-White Kitchens
White kitchens replaced black kitchens and now earthy-toned kitchens are replacing white kitchens. Consider dark neutral stone countertops plus dark wood accents for a more modern look.
All good trends must come to an end! And it all depends on how long you plan on living in your home. Your style preferences come first, especially if you're not planning on selling anytime soon. But, if you need to list your home, avoid any polarizing trends, beyond even this list, that could hurt the resale value.
Sources: Apartment Therapy