Tesla Tests Rental Solar Panels in Six States
Blog posted On September 04, 2019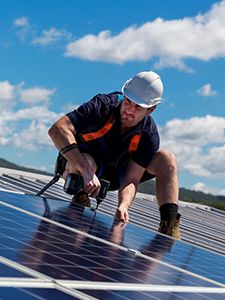 Since Tesla acquired SolarCity in 2016, residential solar panel installations have stalled. High installation costs create a financial barrier for many homeowners to switch to solar panels, despite the long-term energy savings. To make its solar panels more accessible, Tesla is pioneering a rental program in Arizona, California, Connecticut, Massachusetts, New Jersey, and New Mexico, with no installation costs and no time commitment.
Tesla's rental program will offer three packages, small (3.8 kW for $50 a month), medium (7.6 kW for $100 a month), and large (11.4 kW for $150 a month). Depending on the size of the home and the energy needs of the homeowners, Tesla solar panels can reduce energy costs anywhere from $80 to $650 each year. If homeowners choose to rent instead of buy solar panels, they will lose any potential tax benefits. Homeowners in Arizona, for example, can receive anywhere from $4,000 to $10,000 in tax benefits. Although solar panel renters can cancel at any time, cancellations come with a $1,500 uninstallation fee. Tesla also reserves the right to change rental rates and the uninstallation fee at any time.
Tesla's solar panel rental rollout may be a way to increase access to and awareness of its solar technology ahead of the launch of its solar roof tiles. In August 2017, Tesla announced its solar roof tiles, but production has faced some delays. Some solar roof tile installations have been spotted, but nothing large scale has taken place.
If you are weighing the options between buying and renting solar panels, Curbed estimates that at the current sales prices, renters wouldn't pay more than owners for at least 12 years. The cost of Tesla solar panels varies from state to state but can range from up to $8,000 for small panels and up to $22,000 for large panels. Even with the uninstallation fee, renting may be a more affordable way to see how much switching to solar energy impacts your utility bills.
Sources: Curbed