Solar Panels Could Increase Your Home's Resale Value
Blog posted On July 31, 2019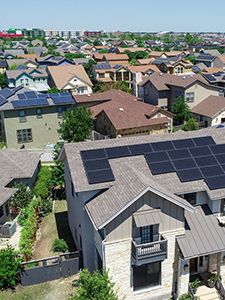 Homeowners switch to solar panels to reduce energy costs and lower their environmental impact. As an added bonus, Zillow researchers uncovered that homes with solar panels sell for 4.1% more on average that similar homes without solar power. The value of adding solar panels to your home varies depending on the market. On the lower impact end of the spectrum, homes in Riverside, CA sold for an average 2.7% or $9,926 more. Comparatively on the higher impact end of the spectrum, homes in New York, NY sold for an average 5.4% or $23,989 more.
Installing solar panels or any alternative energy system in your home will come with an upfront cost. This cost varies depending on the type of system, your location, and other factors, but the average cost of a solar panel system in the United States is $12,810, after tax credits. The federal solar tax credit allows homeowners to deduct 30% of the installation cost of a solar energy system from your federal taxes. In 2019, homeowners saved on average $5,000 on installation costs. Once the system is installed, the homeowner will eventually recoup that cost through energy savings.
When shopping for solar panels on your home, be sure to shop around and get multiple quotes. Resources like EnergySage allow you to register your property on a Solar Marketplace database where vetted local installers can send you quotes. Homeowners who compare solar panel installation prices tend to save 10% or more. Additionally, beware of the bigger installers. The US government found large installers charge $2,000 to $5,000 more than smaller solar companies. Large installers also tend to offer standard equipment options that don't fit every home equally. A smaller installer may be able to offer more equipment to customize your solar system to find the most cost-effective setup.
If you have any questions about adding solar panels to your current home, let me know. A cash-out refinance could help you finance the cost of the installation. If you're interested in buying a home with solar panels, I can work with you to find the best mortgage option to finance that purchase.
Sources: Energy Sage, Energy Sage, Zillow