Average Consumer FICO Score Reaches 706
Blog posted On October 02, 2019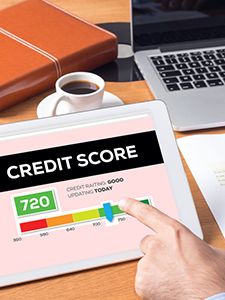 Consumer credit scores continue to recover in the wake of economic recovery, most recently hitting a new record high FICO score of 706. The FICO credit score is the most widely accepted credit score used by banks and lenders to assess a consumer's credit risk and ability to repay a loan or a line of credit. By comparison, just ten years ago, at the end of the Great Recession, the average FICO credit score was only 686.
The US economy has been in a prolonged state of expansion driven by robust job growth and strong consumer spending. Stricter lending standards ensure consumers do not take on loans or lines of credit that they cannot repay, resulting in credit events like default or foreclosure. Vice President of Scores and Predictive Analytics at FICO, Ethan Dornhelm, explained, "consumers who suffered financial misfortune during the Great Recession have over the past few years had the associated missed payments from that time period purged from their credit file."
The FICO credit score is based on data from the three credit reporting bureaus, Equifax, Experion and Transunion. The FICO credit score ranges from 300 to 850 and is influenced by five differently weighted factors.
Payment history (35%) – your tendency to repay your debts and bills on time.
Amounts owed (30%) – your total outstanding debt. Financial experts recommend keeping this figure below 30% of your total credit limit, and below 10% if you can.
Credit history (15%) – based on the length of your credit history.
New credit (10%) – impacted when you apply for a new credit card, loan, or line of credit.
Credit mix (10%) – ensures you are in good standing with multiple types of credit.
There are free resources online to estimate your credit score, but these estimates may differ from your official FICO credit score. All consumers are entitled to a free credit report each year from annualcreditrport.com. If you are getting ready to refinance your mortgage loan or buy a new home, find out where your credit score stands. A good credit score will help you qualify for your home loan.
If you have any questions about your credit score or any credit incidents, please let me know.
Sources: HousingWire