Demand for Rentals is on the Rise: Here's How to Invest
Blog posted On January 05, 2021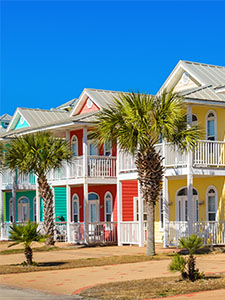 In October 2020, Roofstock, an online marketplace for rental properties, reported the highest level of rental property transactions they had ever seen in a one-month period. Year-over-year, the site's traffic was up 45%. "There's just been extraordinary demand for rental homes in a lot of these secondary cities, tertiary cities, suburban markets, where a lot of the single-family rental properties are located," said Roofstock's CEO, Gary Beasley. Under the right circumstances, purchasing an investment property can be a good source of substantial cash flow. But remember that purchasing and maintaining a rental home does come with different responsibilities than your primary residence.
Around 75% of the investors that use Roofstock are first time investors that are transitioning from being a renter to being a landlord. "They're getting a chance to build equity in a property where someone else is paying the mortgage, essentially, by renting it," said Beasley. Purchasing a rental home can be a smart way to diversify your investment portfolio – especially when rates are trending as low as they are. However, before you make such a large investment, it's important to do your homework.
Location
As many real estate agents like to say, when it comes to a home purchase, it's all about "location, location, location.". When searching for a well-located rental property, look for an area with good schools and plentiful job opportunities. Long time real estate investor, Holly Williams, recently purchased an apartment complex down the road from an office building for the software company called SAS. "I want to buy in markets where companies are moving to," said Williams. Another tip is to choose an area that you are familiar with, like your hometown or a town nearby. This can give you an edge and maybe help you decide how much rent you can charge. If you need more help deciding on rates, Williams suggests checking the rates of nearby rentals to use as a reference.
Physical condition
Most investment properties will need upgrades or repairs to get them in proper renting shape. Depending on the scope of the maintenance required, you could be spending thousands of dollars every year just to get the house renter ready. Experts recommend budgeting 3 – 6 months of cash reserves to cover utilities and mortgage while the house is being repaired. Though the costs of upgrades are normally tax-deductible, you still should ask for a breakdown of monthly costs and major repairs before closing on the house. If the monthly costs are more than the income the home generates, then it likely will not be worth the investment.
Financing
In general, qualifying for a mortgage on an investment property is more difficult than for a primary residence. Not only are there generally higher interest rates, but tougher qualification criteria as well. Typically, you would need to put down 20% of the purchase price in order to secure a loan for an investment property since PMI normally doesn't cover investment properties. However, different lenders have different requirements, so always talk with your loan officer if you have any questions. Additionally, if you are already paying a primary mortgage, then you will need to show that your income will cover the additional mortgage of the new property.
Coronavirus considerations
Though the Centers for Disease Control and Prevention's national eviction ban was set to expire at the end of December, lawmakers decided to extend the moratorium until February 2021 to reduce the spread of COVID-19. With the moratorium, landlords are prohibited from evicting tenants who cannot pay rent – meaning that if you were faced with a similar situation you would have to dig into your savings to make the payments yourself.
Many financial experts agree that purchasing real estate is a great way to diversify your portfolio, however you want to make sure that it is the right decision for you before committing to the investment. Unlike stocks, real estate investments are not as fluid, and generally require much more money upfront. As always, be sure to consult your financial advisor before making any large financial decisions. After you determine that it is the right decision for you, we'll be waiting to talk!