Listing Your Home? Emphasize These Features if You've Got Them
Blog posted On September 19, 2019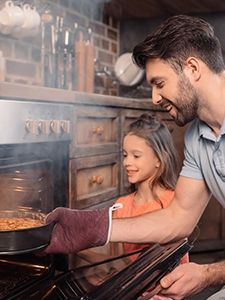 When you're selling your home, you're likely on a deadline. You have to get an offer on your current home, make an offer on your new home, and move all within a relatively tight timeline, especially if you live in or are moving to a busy market. Selling your home faster can be as easy as emphasizing certain features that buyers find appealing. Zillow analyzed 4.6 million home sales across the country from 2017 to 2018 and found that these features tended to sell homes faster and, in some cases, net a greater profit.
To many buyers, the kitchen is the heart of the home. It's no surprise that certain kitchen features boost sales or that kitchens are the most commonly renovated room for homeowners. Zillow found that if you have a steam oven, including it in the listing could get you 34.1% more than the expected sales price, followed closely by a professional appliance that could earn 32.3% more than the expected sales price. Other features that made the cut included wine cellar, steam shower, pot filler, shed/garage studio, heated floor, waterfall countertop, outdoor kitchen, and prep sink. Unsurprisingly, many of the biggest upselling features were kitchen related. If you do not have these features in your home there is no need to invest in them now, but if you do have any, they are worth highlighting in your listing.
If you're looking to sell your home sooner, Zillow found that trendy features stood out. In fact, listings that featured open shelving sold 11.2 days faster than comparable listings, followed by mentioning a "pergola" or "mid-century" anything selling 10.7 days faster. Other stand-out features included subway tile, exposed brick, smart light, farmhouse sink, butcher block, smart thermostat, or barn door. Again, adding these last minute may not be in your best interest, but if you do have any, point them out in your home's listing.
Buyer preferences are always changing and vary from region to region. Check out comparable local listings to see what your neighbors are highlighting and whether or not that helped them sell for more or faster. Selling a home and buying a new home at the same time is easier when you work with the right real estate professionals. It's our job to help you make smart financial decisions. Let me know if you have any other mortgage questions.
Sources: Zillow