All American Homes Assigned Flood-Risk Score
Blog posted On September 16, 2020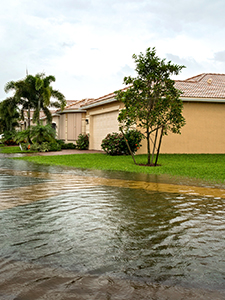 In the wake of the recent devastation of Hurricane Laura, you may be thinking about your home's flood insurance policy. Even if you do not live in a coastal area vulnerable to hurricane damage, stronger and more frequent hurricanes plus other climate-related natural disasters could put your home at a greater risk now than when you bought the home. To keep home buyers and homeowners informed and aware, nonprofit research and technology group, First Street Foundation, has designed an interactive website to host flood risk data on over 142 million homes. Additionally, Realtor.com will now include the flood-risk score on its online home listings.
To view your home's (or prospective new home's) flood-risk score, access the Flood Factor tool here. Each listing ranks the property on a scale of 1 to 10 (1 being lowest risk and 10 being highest risk). It also displays the proportion of properties in the area that are at risk and predicts the likelihood of flooding over the next 30 years. The Federal Emergency Management Association (FEMA) identifies approximately 9 million US homes as having substantial flood risk, while the First Street Foundation has identified over 14.5 million homes, a 70% larger share. First Street incorporates both current and projected climate data and sea level rise, while FEMA's data does not factor in potential climate changes.
Realtor.com features about 110 million home listings and is one of the most popular online directories of homes for sale. By displaying the flood-risk score, the site hopes to better educate potential home buyers and prepare them with a realistic expectation of the property's risk. Leslie Jordan, senior vice president of product at Realtor.com, explained, "by surfacing this information upfront, consumers can avoid surprises and have all the information they need to make informed decisions and feel confident about the home-buying process."
Most homeowner's insurance policies do not include flood insurance and the homeowner will be responsible for taking out an additional policy if the home is at risk of flooding. The flood-risk score helps home buyers prepare for this possible additional cost and better plan their budget when buying and maintaining their new home.
If you have any questions about flood insurance or your home's flood-risk, let us know.
Sources: CNBC, HousingWire