5 Questions to Consider as a Young Adult Home Buyer
Blog posted On December 30, 2020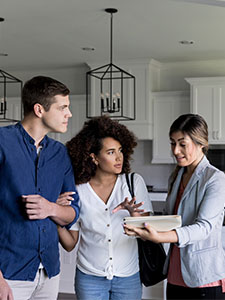 With the new year just around the corner, now is a great time for a fresh start. After spending almost one year cooped up in your parents' basement or outgrowing your little apartment, you might be thinking that it's time for the next step. Mortgage rates are historically low, your job is letting you work remotely, and you're ready to purchase a home of your own. However, buying a home is a big step, and before you do, you want to make sure that you have considered all of the factors involved.
Are you financially prepared?
Deciding to buy a home might be the most expensive financial decision you will make. Many first-time home buyers might assume that buying a home is simply paying a mortgage, but there are many added costs during the home buying process. From closing costs and inspection fees, to the down payment and mortgage insurance (if necessary) – there are many payments that can add up quickly when purchasing a home. Not to mention moving costs and preliminary maintenance costs. After you move in, you'll also want to touch up the house to make it more homelike – buy furniture, paint walls, etc. According to Moving.com, the average cost of a local move is $1,250 and the average long-distance moving cost is $4,890.
Have you determined a budget?
Before you go shopping for and falling in love with the perfect house, make sure it's something you can afford. Oftentimes, determining your budget will involve more than whether or not you can cover the monthly mortgage payments. One of the easiest ways to create a home buying budget is the '28% rule,' which says that your mortgage payments should generally not exceed 28% of your monthly income, though this percentage may vary. Another factor to consider is your debt-to-income ratio, which is all of your monthly expenses divided by your gross monthly income. Debt-to-income ratio requirements vary per lender, but the lower the better.
Have you saved for the down payment?
Though there are several costs involved in purchasing a home, the most expensive (aside from the mortgage) is the down payment. A down payment is the upfront amount of money you put towards a home – expressed as a percentage of the overall home price. This percentage will represent the initial amount of ownership you can claim on the house. Most lenders require down payments for home loans – though one exemption is borrowers financing their home with a VA Loan. VA Loans are loans backed by the U.S. Department of Veterans Affairs (VA) that can be used by eligible Veterans, reservists, active-duty military, and surviving spouses. Most other loans generally have a minimum down payment that is required, which can take a long time to save. One down payment funding option that can help you save more money faster is HomeFundIt™. HomeFundIt is the first down payment gifting platform that allows friends, family, and anyone else to contribute to your down payment hassle-free.
Have you reviewed your credit report?
One key factor in your home loan application is your credit score. Lenders will assess your credit score (and other factors) to determine the loan type and mortgage rate that is best suited for you. If you are thinking about buying a home, you will want to improve your credit score as much as possible. To improve your credit score, you first need to know your credit score. The easiest way to find out your credit score is by looking on your most recent statement from your credit card company. Best practices for improving your score include limiting expensive purchases, paying off debts, making timely payments, and avoiding new credit applications.
Have you considered your mortgage options?
Some of the most common mortgage decisions are fixed rate vs. adjustable rate and 15 year vs. 30 year. Fixed and adjustable-rate mortgages refer to the interest that you will pay on your loan. With a fixed-rate mortgage you will pay the same in interest over the life of your loan and you will know your payments each month. With an adjustable-rate mortgage, your interest and monthly payments will vary over time. 15 and 30-year loans refer to the term length of your loan. Typically, a 15-year loan will be paid off quicker, but the monthly payments will be higher, whereas a 30-year loan might take longer to pay off, but with lower monthly payments.
There are many factors to consider when preparing to buy a home, and the process may seem overwhelming at times. If you would like help with your home buying process or have any other questions, please let us know.
Sources: Forbes.com, Moving.com