Why Your Home Might Sell for Less than you Expect
Blog posted On October 24, 2019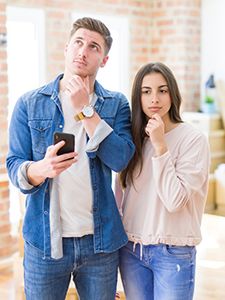 The last thing you want to happen when you're selling your home is for it to sell for less than you expected. If you're selling your current home, you're probably in the process of buying a new home. Selling your home for $5,000 or even $10,000 less than you expected to sell it for can seriously shrink your moving budget.
So why do homes sometimes sell for less than you expect? Real estate technology company, Opendoor, reviewed purchase offers between June 2018 and June 2019 in 20 major metropolitan areas across the country. Based on this data, they found the 12 most common reasons your home may sell for less, and on average what each feature costs you.
Outdated kitchen cabinets
-$2,100
Just like an upgraded kitchen can earn a higher profit, an outdated kitchen can net you less money. You don't need to invest in brand new appliances or a full kitchen upgrade right before you move, but something as simple as new cabinet doors and handles makes the kitchen look newer.
Sloped driveway
-$2,400
Steep driveways are difficult and, in some cases, impossible to fix. Just consider this potential loss before you set the asking price.
Lack of Landscaping
-$2,600
You're not going to be able to fully landscape your yard before you move, but you should consider cleaning things up before you list. Curb appeal matters, so make sure your lawn is well-kept and remove and replace any dead plants. Think colorful, fun flowers over dead patches of grass.
Visible power lines
-$2,700
Again, this one can be hard to hide, so you might just have to take the loss. The total cost of visible power lines may differ depending on whether or not you are in the city or suburbs where it is more or less expected.
Low-quality cabinetry
-$3,000
Your kitchen matters, and low quality cabinetry will stand out. Again, spend your renovation budget sparingly. Replacing low-quality cabinets with a chic alternative like modern shelving or open cabinets could be a low-cost way to up your asking price.
Located on busy street
-$3,800
Location is the one thing you can't change about your home, but you can make the most of it. Well-placed hedges or a privacy fence can reduce noise levels and help separate the home from the street.
Carpet in the master bedroom
-$3,800
Carpeting is out, even in the master bedroom. A carpeted master bedroom will show wear and tear and age the home. Look into inexpensive flooring finishes to replace the carpeting or check out what's underneath! Hidden hardwood floors could save you the trouble and the cost of new flooring.
Carpet as the primary type of flooring
-$3,900
If carpeting is the main type of flooring in your home, it may be worth changing the flooring before you list. A carpeted master bedroom is one thing, but an entirely carpeted home could be a big turn-off to potential buyers.
Outdated kitchen countertops
-$4,600
Back in the kitchen, buyers will not be as interested in tile and Formica countertops as they were thirty years ago. Replacing the countertops is a quick way to rejuvenate your kitchen.
Unsightly neighbors
-$5,300
You don't have a lot of options with this one. Hedges and privacy fences can only hide so much, so you may need to lower your expectations and your price. If you know your neighbors, it could be worth a conversation before you list to ask about cleaning up their property.
Sloped backyard
-$7,000
Depending on the severity of the slope, this one could also be hard to avoid. Stage your backyard appropriately with any grills or patio furniture you have to show the potential buyer how to work the space.
Industrial or commercial neighbors
-$9,600
Like visible power lines or a busy street, this can be more or less of a deal breaker depending on whether you're in the city or the suburbs. Price accordingly if you have to and consider this when buying your next home.
Working with an experienced, local Realtor or real estate agent can help you set a realistic home price and avoid any surprises when you get an offer. Let me know if you have any questions about how to qualify for a mortgage while simultaneously selling your current home and buying a new home.
Sources: Business Insider