Watch Out: 6 Common HOA Rules You May Accidentally Break
Blog posted On September 18, 2019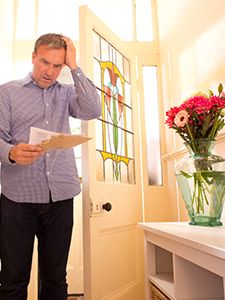 In communities managed by a Homeowners Association (HOA), homeowners typically have to adhere to certain guidelines and rules known as covenants, conditions, and restrictions (CC&Rs). If you break one of your HOA's CC&Rs you may face a fine in addition to your monthly or yearly dues. When you move into a new home, it's important to read your HOA CC&Rs thoroughly. Seemingly routine changes to your home's exterior or a friend visiting in a Recreational Vehicle may violate the rules and leave you with a fine or worse.
Changes to Your Home Design – changes as simple as a new mailbox or repainting your home's exterior may require HOA approval. To keep a consistent look between homes, your HOA may have an approved selection of exterior paint colors. Real estate lawyers agree these are the most common types of violations, since most HOA CC&Rs are primarily about the appearance of the home.
Outdoor Smoking – these restrictions will vary from region to region and can include cigarettes, cigars, and even marijuana if you live in an area where it has been licensed for medical use or decriminalized. Many communal areas like pools or tennis courts can have smoking restrictions as well.
Types of Pets – some HOAs have restrictions on types of pets or weight limits. Be sure to check on breed restrictions before adopting a new pet. Shelters or rescue programs may request a copy of your CC&Rs to ensure your new pet will be compliant.
Short-Term Rentals – whether you are interested in renting your home for an extended period of time or using it as a short-term vacation rental through a program like Airbnb, check your CC&Rs. Some HOAs will require approval before renting out your home, while others ban it altogether. If you're looking to make some extra rental income, make sure your HOA is rental-friendly.
Landscaping or Decorations – not keeping up with your lawn and landscaping is usually a violation of the HOA CC&Rs. Overgrown weeds can infest neighboring lawns or a tree that needs trimming could cause damage to other homes and vehicles if its branches fall. Depending on what your HOA fees cover, some landscaping services may be included. Holiday decorations may also be a point of contention. During the holiday season, some HOAs will limit the amount of exterior lighting or decorations.
RVs, Boats, and Other Large Vehicles – if you own an RV, boat, or other large vehicle you should check with your CC&Rs before moving in. Some neighborhoods may require you to make other parking arrangements for your vehicles. Additionally, some HOAs will have restrictions for guest parking. If you're hosting a party or hosting out-of-town guests, get the appropriate parking passes or approval before your visitors arrive.
HOA fees cover the cost of maintenance and upkeep of your neighborhood and can even fund communal areas like pools, gyms, community centers and more. With an HOA comes the CC&Rs and breaking any of the rules you agree to when you move in, could mean a fine. When you're moving into a home with an HOA be sure to review the CC&R carefully now to avoid any misunderstandings later.
Sources: Realtor.com