6 Garage Renovation Ideas
Blog posted On July 04, 2019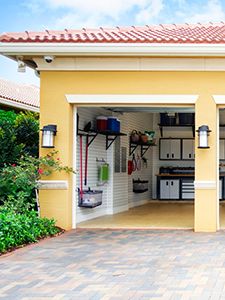 Own a home with a garage? Realtor.com reports garage space ranks just as high as an updated kitchen for some prospective home buyers. If you are interested in upgrading your garage before selling your home or just looking for ways to repurpose unused garage space, review these top garage renovation ideas. Keep in mind the temperature of your garage, especially during the summer. Most of these renovation ideas may require an HVAC upgrade or other heating and cooling system.
Home Office – whether you are starting your own business or telecommuting at your current position, you need your own workspace. Add filing cabinets or build in shelves for multi-use storage. Unleash your creativity with whiteboard wall!
Playroom – give the kids – and the adults – their own space by converting your garage in the playroom. Art projects make less of a mess with an easy-to-clean durable floor. Or add a rug or pillows and bean bag chairs to soften the space.
Game Room – whether you're into pool and air hockey or video games, your garage can make a great multi-purpose game room. Add a refrigerator or kitchenette for added guest entertainment.
Hobby Station - calling all knitters, crafters, scrapbookers, and more! A repurposed garage can be just the right space to unleash your creativity, without cluttering your home.
Extra Bedroom – for both long and short-term guests! A garage suite may be the perfect place to house an older relative or adult child that is moving in with you. It could also be a potential revenue generator as a short-term rental. Adding amenities like a bathroom or kitchenette increase the potential of your guest suite.
Home Gym – consider the monthly cost of your current gym membership compared with the investment of a home gym. Whether you prefer the energy of a treadmill or the tranquility of a few yoga mats and light weights, your garage gym can cut your workout costs and allow you to spend more time at home.
Financing your garage renovation depends on the extent of the project. A guest suite conversion will be more labor-intensive than plugging in a refrigerator and setting up a ping pong table. If you're planning a serious garage upgrade to improve your home's livability and even up the resale value, talk with a loan officer. A cash-out refinance or renovation loan could help you pay for the renovation with your mortgage.
Sources: Realtor.com