5 Most Common First-Time Home Buyer Mistakes, According to Realtors
Blog posted On August 14, 2019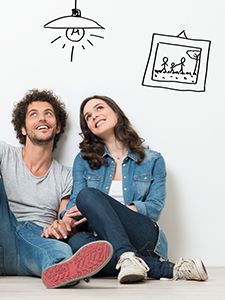 When you're buying a home, especially for the first time, working with a Realtor or real estate agent can help you avoid any rookie mistakes. Lifestyle blog, Apartment Therapy, polled real estate agents from around the country to identify the most common first-time home buyer mistakes, and how you can avoid them.
Getting too attached to your "dream home."
There are many reasons buyers fall in love with homes. Maybe it has a newly renovated kitchen, maybe the brick exterior reminds you of your childhood home, maybe you just get that feeling when you walk through the door. Buying a home, especially in a competitive market, may involve multiple offers on multiple homes. If you find yourself suddenly ready to go over budget in a bidding war, take a step back. The "dream home" can easily become the nightmare home if you find yourself overpaying for an emotional connection.
Ignoring the neighborhood.
One of the most popular real estate monikers "location, location, location" holds true. The only thing you cannot change about a home is its location. You might really need that fourth bedroom or that extra half bathroom but buying a home that already has those additions and is located in a far-flung region is going to really complicate your commute. You might think you're getting a great price on a home, but are the other neighboring properties experiencing a rapid price decline? Working with a local Realtor or real estate agent will allow you to address those concerns, they know the neighborhood and they'll be able to share historical data and projections that you might not have access to.
Skipping inspections.
There are some cases where you remove the inspection contingency as a way to get your offer accepted. The need to do this varies widely depending on the particular property, what you are offering and most importantly, what your Realtor or real estate agent says. Removing necessary inspections without the proper guidance could lead to problems with your home down the road.
Not asking for seller concessions.
In many cases, a seller may be willing to offer seller concessions, especially in a situation where they are on a strict timeline to sell their home. Even if a flaw in the home is cosmetic and doesn't have a negative structural impact, you may be entitled to a few thousand dollars off of the purchase price to fix the issue. Discuss this with your Realtor or real estate agent.
Big spending before you close your loan.
You may know you are not supposed to open new lines of credit before you close on a home loan, but you're also not supposed to make large purchases. Buying all new furniture, either with cash or on a credit card, will impact either your savings balance or your credit usage. Both of these outcomes could cause your home loan to be denied. You're excited to furnish your home, but a few nights on the air mattress may be worth it just to make sure you close your loan.
Buying a home, especially your first home, is an exciting endeavor, but a simple mistake can cost you. Be prepared for the home buying process by working with an experienced, local Realtor or real estate agent.
Sources: Apartment Therapy