Market Forecast: Consumer Price Index, Mortgage Applications, and Retail Sales
Blog posted On May 11, 2020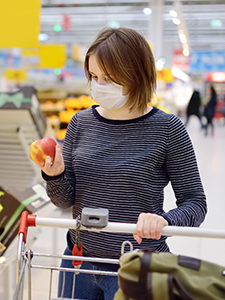 Mortgage rates continue to come in at historic lows and are not moving much. This week, the only significant housing report will be the weekly mortgage application survey. Other market-moving reports include the consumer price index and retail sales.
The consumer price index tracks the changes in the average prices of a fixed basket of goods and services sold to final consumers. In March, the consumer price index declined 0.4% month-over-month and increased just 1.5% year-over-year. Excluding more volatile food and energy costs, the index declined 0.1% month-over-month and increased 2.1% year-over-year. Losses were driven by drops in the cost of airfare, hotels and other lodging away from home, and apparel.
Lower mortgage rates continued to drive purchase activity for the week ending 5/1. New purchase application submissions increased 6.0%, but refinance application submissions decreased 2.0%, for a composite increase of 0.1%. In compliance with social distancing guidelines, many agents are offering video tours of homes. Much of the mortgage process can also be completed online or over the phone.
Retail sales measure total receipts at stores that sell merchandise and related services to final consumers. Retail sales fell 8.7% month-over-month in March, as many stores face closures and disruptions due to the coronavirus pandemic. Excluding vehicle sales, retail sales are down 4.5% and excluding vehicle and gas, sales are down 3.1%. Auto dealers experienced a 27% decline and sales and gas stations saw a 17% decline. Grocery stores, pharmacies, home centers, and internet retailers all posted positive numbers but sales at clothing stores, restaurants, and department stores sharply declined.
Coronavirus shutdowns and closures have led to a global economic slowdown. As states start to reopen, we are likely to start seeing economic recovery. To comply with social distancing guidelines, much of the mortgage process can be completed online. If you have any questions about how we are staying safe and keeping our customers safe during coronavirus, let us know!
Sources: CNBC, CNBC, CNBC, Econoday, MarketWatch, Mortgage News Daily